Self-service Agency Financial Account Viewer is COMING SOON!
You asked for it! You got it! On Friday, June 29, 2018, NAU Country will be introducing our new Financial Account Viewer. This enhancement was requested specifically by agents, like you. The Financial Account Viewer enhancements allow you the ability to self-service your insureds and provide the excellent customer service they deserve. Information from billing to indemnity amounts to financial documents will all be available for you to access! Find out more on the changes below and sign up for a training webinar, today!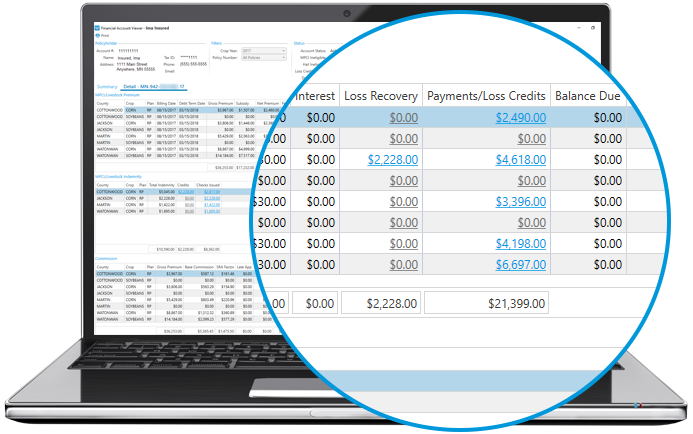 What's new?
The new Agency Financial Account Viewer will offer you the ability to self-service your insureds by providing user-friendly financial windows, the ability to drill down to policy coverage details, and allow you access to financial documents sent from NAU Country.
Account Search window with more options.

Improvements that will allow you to look up the Insured account by Account Number, Statement Number, Agency Code, Policy Number, Account Name, or Account Tax ID.

The Account Detail header displays more detail and includes filters.

Insured Account Number, Name, Address, Phone, and Email are now available within the viewer.
You can filter down to a specific Crop Year or Policy Number.
Quick status display shows you the Account Status, the MPCI or Hail Ineligible code (if applicable), Loss Credit Waiver information, and Direct Deposit sign-up.

The Summary tab features the MPCI, Livestock, Crop-Hail, and Named Peril premium and indemnity details.

In depth details on Premium breakdowns including Gross Premium, Subsidy, Net Premium, Interest, Loss Recovery, and Payment/Loss Credits.
Indemnity breakdowns include Total Indemnity, Loss Credits, and Checks Issued.
Drill down to the coverage detail by double clicking on any of the policy lines.
Links available on calculated totals providing more information. A great example is clicking on the Payments/Loss Credits link, you will get the detail break down between Indemnity Loss Credits and Payments made on the policy.
Commission break-down information for users with the appropriate permissions.

The Payment tab continues to supply the pertinent information you need.

It continues to display information including payment Deposit Dates, Postmark Dates, Check Amounts, and Amounts Assigned to the policy.

The Indemnity Disbursement tab takes the place of the Checks Issued tab, but with added functionality.

It continues to inform you on Loss Type, Payment Status, Check/Loss Amount, and the date the Check was authorized.
You also can double-click on the Check Issued to view the check that was sent.

The Documents tab takes the place of the Statements tab, it was renamed to allow for additional document displays.

Features still include the Billing Statement columns including Invoice Number, Statement Date, Amount Due, and Past Due. Plus, the ability to view and print the Billing Statement.
Now there is a new "Documents" section which allows you to view and print documents including the Crop Hail Premium Advice, MPCI Termination Letter, 1099 Forms, Payment Agreement form, Financial Letter, and many more.
Benefits you will appreciate!
All the details you need to assist your insured with their financial questions.
Dependable functionality expected with EASYwriter Pro®, NOW organized more efficiently.
Increased speed, efficiency, and reliability.
Resources:
We are excited for these new changes and want you to be comfortable with the new look and functionality. We are offering the following webinars to prepare you for the change, click on the date to register today!