Is crop insurance targeted to specific crops, regions, or farmers?
In its formative years, crop insurance was available for only a handful of commodities. For example, in 1948, insurance was only available for wheat, cotton, flax, corn and tobacco for a total of 391 county-crop programs. This is compared to more than 130 commodities and 62,000 county-crop programs today. Because crop insurance premium support is size neutral, every eligible farmer, large or small, may purchase crop insurance.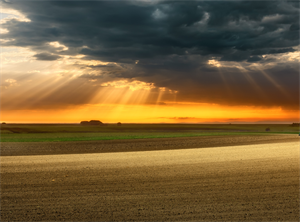 All told, 1.1 million policies were sold in 2017, covering all 50 states and more than 90 percent of America's farmland.
While major field crops, such as corn, soybeans, and wheat account for the most acreage protected by crop insurance, they also account for most acreage farmed today. As the crop insurance industry has matured, extensive efforts have been made to increase the crops and areas covered by expanding to new areas and developing endorsements, special provisions, and new plans of insurance to meet the needs of a diverse U.S. agriculture.
Expansion to additional crops and new provisions and plans of insurance have been the result of Congressional actions, notably in farm bills; RMA contracting with private entities often at the request of farmers; and new pilot programs introduced through the 508(h) process, also spurred by farmer interest. Through these means, crop insurance has been successfully expanded to many new specialty crops as well as to pasture, range, forage and livestock products. New insurance plans, such as Actual Revenue History and Whole Farm Revenue Protection, have been designed to improve coverage for specialty crop and diversified farmers.
The result of these ongoing efforts has been an increase in affordable financial protection for many farm types across the country. For example, an article on specialty crop insurance notes that "Considering the different perils faced and the available alternative risk management approaches, the average participation rate for insurable specialty crops is a respectable 75 percent." Such program growth will continue to be a high priority, given the reduced role of traditional farm programs and the increased reliance on crop insurance to uphold the financial security of U.S. farms.
Check out how crop insurance has your state covered here.