2019 NAU Country Photo Calendar Contest
Don't miss your chance to take part in the 2019 NAU Country Calendar by submitting your photo entry that represents "Farm Life" today!
Our 2018 calendar featured a variety of fun pictures showcasing the four seasons of farming. This year, we want to see your choice of photos that signify Farm Life!
Get Your Photos Published!
Your farms look beautiful no matter what time of the year! Whether it's a photo of your field during planting, harvest, irrigation or a storm on the farm, etc., we want to see them all!
No matter your skill level, we want to see your photographs. Send us what you've got!
Please note: We are accepting all picture submissions, but not all photos will be chosen to be printed in the calendar.
Agents, Insureds, NAU Country employees, and friends, please submit your photos by 12 p.m. CDT on Friday, September 7, 2018. Anyone wishing to enter should email a digital copy of their photo along with a signed Release Form to ITMarketing@naucountry.com.
After the submission window closes, we will post the photos that have met the printing and contest requirements to our Facebook page in a photo gallery and allow voting for the top photos. The top 10 "liked" photos will be used within or on the cover of the 2019 NAU Country Calendar. Chosen photographs will be given printed recognition including name, county, and state. Selected participants will be notified via email and will receive a free calendar.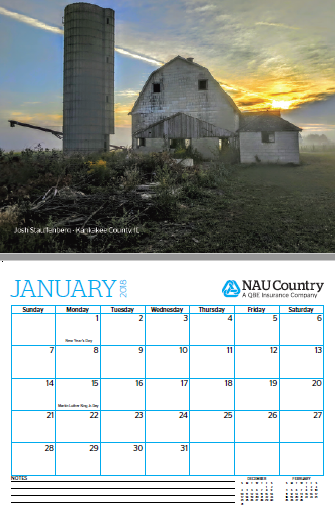 Photo Submission Requirements:
Photo submission including name, county, and state
Signed Release Form
Meet minimum size requirements of 12'' wide x 9'' tall at 300 dpi/3675 pixels wide x 2775 pixels tall
Meet photo deadline of Friday, September 7, 2018 at 12 p.m. CDT
Unsure of how to determine photo size? Follow these steps!
Option 1:
Open Windows Explorer
Navigate to the folder where your pictures are located
Right click in the folder and choose "View"
Select "Details"
In the top of the window you'll see Name, Date, Type, Size, (etc.), right click within that area
Choose "More"
Within the pop-up, scroll down and select "Dimensions"
Option 2:
Right click on the image
Select "Properties"
Select the "Details" tab
Scroll down and you'll see "Dimensions"
By December, your photo may be hanging in NAU Country Insurance Company and agency offices across the United States.
Now's your chance! Ready, set, click!