NAU Country partners with all sides of the agricultural spectrum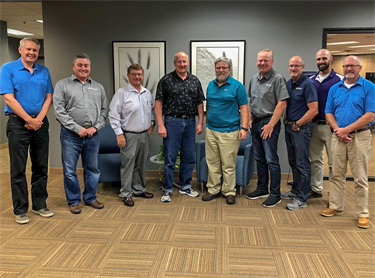 On Friday, September 14, 2018, NAU Country had the amazing opportunity to meet with Martin Barbre, administrator (Risk Management Agency – Manager, FCIC) and Duane Voy, director, United States Department of Agriculture (Risk Management Agency, St. Paul Regional Office). During the meeting, Jim Korin, president of NAU Country, and his team of executives discussed exciting initiatives NAU Country is taking to continually partner with our agents and the American farmer.
Senior Vice President of Claims Mark Mossman first discussed the preemptive strategies NAU Country deployed in preparation for Hurricane Florence to ensure our adjusting staff would be fully prepared to work side-by-side with our farmers to provide the protection and coverage they need to ensure their livelihood isn't compromised. In addition to the hurricane preparations, Mark Mossman then discussed how NAU Country utilizes drones to assist our adjusters across the country by giving examples of how the data has evolved and become more accurate, noting that we are able to provide this excellent service to our policyholders.
Following the claims discussions, we previewed some of the innovative technology NAU Country has developed specifically to aid the farmer by providing efficient and accurate coverage, while assisting in good farming practices. The NAU Country team showcased EASYview Weather first and demonstrated how farmers can utilize this product to review any potential hail losses and then submit them in a timely manner. We then demonstrated Field Insights™ farmer friendly tools such as, the Growth Model, Spray Advisor, and Harvest Advisor. Our product demonstrations led to discussions on crop health management and how they play into better risk management.
As the meeting concluded, Barbre expressed that he was impressed with how dedicated NAU Country is with their farmers and how we put the farmer first with our technology, underwriting, and claim services that are provided. Overall, NAU Country continues to partner with all sides of the agricultural spectrum putting our agents and farmers first, always.