Are you prepared for Dairy Revenue Protection (DRP)?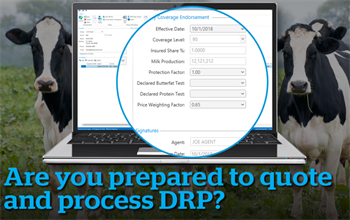 Successful agencies, like yours, strive to be the best in business by knowing new products, understanding their benefits, and being prepared to quote, accept applications, and process. NAU Country's role is to make sure that you have all the resources readily available to you. Are you prepared to handle Dairy Revenue Protection?
Knowing DRP and its benefits
NAU Country is offering many Dairy Revenue Protection trainings around the U.S. for the three (3) hours of required training. These classes walk through the program in detail including important dates, benefits, and application requirements. Check out our Agent Portal for locations and registration information. Please note: these trainings still require a passed DRP exam to write a policy.
If you cannot make a training class in person, NAU Country's three (3) hour Dairy Revenue Protection (DRP) module is now available! In addition to the three (3) hour module, you must also pass our DRP competency exam. Once both the training and competency exam are completed, you will have met the RMA training requirements necessary to sell DRP. To access the DRP module, please email Luke Anderson or Krista Drier and request a DRP login. You will then receive an email with a link and a password.
If you would prefer to find out more on your own time, check out our NAU Country Dairy Revenue Protection web page. Located on the site are high level details on the product, our DRP PowerPoint, recorded DRP webinars, links to RMA's informational DRP pages, and an updated document of Frequently Asked Questions (FAQs).
Are you prepared to quote, accept applications, and process?
In a continued effort to make sure you're ready for the season, our DRP quoting system will go live on Tuesday, October 9, 2018 at 4 p.m. (CT). EASYquote® will offer the ability to quote and report on various DRP situations. Check out our Tips and Tricks on how to quote DRP!
For ease in signing up your policyholders, we have three new forms available to you regarding Dairy Revenue Protection. To view our forms, please go to www.naucountry.com, and log into the Agent Portal, then click on the Company Forms tab. The forms are located within the Livestock section.
Dairy Revenue Protection (DRP) Application (Newly Revised)
Dairy Revenue Protection (DRP) Application and Quarterly Coverage Endorsement
Dairy Revenue Protection (DRP) Quarterly Coverage Endorsement
In addition, you now have the ability to key DRP within the EASYwriter Pro® system, similar to keying LGM and LRP. The intuitive workflow and user-friendly screens make DRP processing easy. We have DRP processing webinars held on Tuesday, October 9 at 10 a.m. and Thursday, October 11 at 1 p.m. Click on our Training and Resources page to register today. In addition, we have our DRP Processing Guide available in our Agent Help Library on the Agent Portal.
As always, our Marketing Representatives and Underwriters are always able to assist with your questions. We look forward to partnering with you on your Dairy Revenue Protection policies.