Advertising is key to your crop insurance business
It's 2019 and NAU Country is here to support your business needs with advertising options! We want your business to excel and we understand the importance of sales tools. Check out our Print and Radio Ad templates, and explore our additional marketing items on the latest products to promote your agency today!
Learn how NAU Country can help with sales through advertising! Click here!
If you need assistance with any of our branded materials, contact the IT Marketing department today. We can help add your logo and verbiage to any of our print ad options.
Email us at ITMarketing@naucountry.com today!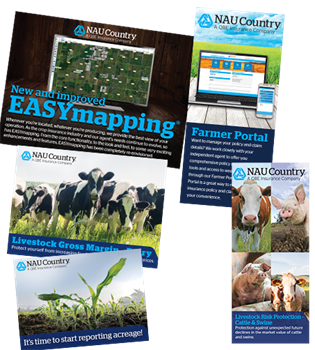 Advertising options available to you!
For advertisements: Log into NAU Country's Agent Portal and select the "Advertising" link within the Agent Tools section to review our agency advertising options.
This website gives you a landing page for all things advertising!
For marketing collateral: You can access additional advertising materials by clicking on the "Supply Order System" link. The following options are available for you to order at your convenience.
Post cards
Brochures
Rack cards
Sample Map Books
Desk signs
Window clings
For apparel and promotional items: Visit our Country Store by logging into the Agent Portal and within the Agent Tools section, click on the "NAU Country Store" link.
Resources:
To access our Agent Portal: Click here!