Coming Soon! Insured Hail Notifications
Hail Notifications available to your insureds - Coming Soon!
As a NAU Country agent, you can currently sign up to receive a hail notification when hail potentially hits your insureds' fields. Coming soon, this same service will be available to your insureds through our Insured Hail Notifications. This notification gives the insured the opportunity to review the report, check on the potential damage, and contact you in the case of a loss that much faster.
This service to our agents and agencies has proved to be very valuable and helps move the potential claims process along quickly. With the ability for our insureds to have the same opportunity to sign up for these alerts, it will open lines of communication on all sides.
This service will be available this March. Let your insureds know that you have another service to offer! We will supply you with quick reference guides and promotional materials for you to hand out closer to the release date.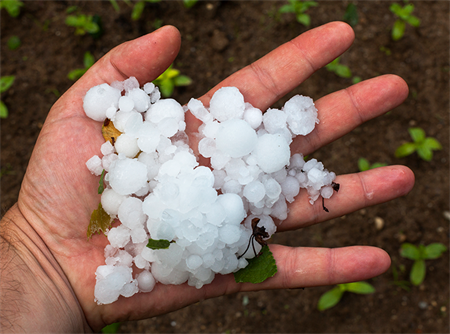 All about the notifications
Our insureds only have a few days to submit their crop insurance Notice of Loss (NOL) after a storm, our Hail Probability Reports (agents) and Insured Hail Notifications (insureds) will assist you in meeting that deadline!
The Insured Hail Notification is a service provided to your insured that will send out an email notification if the probability of hail greater than .5" is detected within a buffered area of 1 mile around each field or section (for unmapped or non-EASYhail) that exist on their policy.
The email is sent out each time hail is detected to have likely passed by their field. The hail would have occurred between 12:00 a.m. (midnight) – 12:00 a.m. (midnight), prior to the email being generated and sent.
Convenient one-time setup!
The Insured Hail Notification enrollment will carry-over from year to year, just like our Hail Probability Reports! The timeframe that the emails are sent out is from March 15 through September 30. Only one email will be sent out per day.
We want to make sure you are comfortable with this new feature and are able to communicate with your insureds that this time-saving process is for everyone's benefit. We will be sending out more information when this service becomes fully available. Stay tuned!
Additional Resources:
Hail Probability alerts Tips and Tricks - Agents
Click here to sign up for Agent Hail Probability Reports
Go the extra mile for your policyholders during hail season Tips and Tricks - Agents
EASYview Weather Tips and Tricks - Agents