Insured Hail Notifications Available Now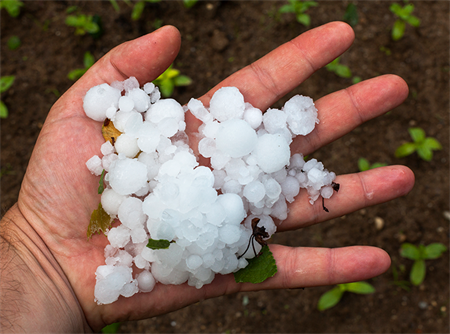 Our Hail Notifications are available to your insureds! As a NAU Country agent, you can currently sign up to receive a hail notification when hail potentially hits your insureds' fields. Now, this same service is available to your insureds through our Insured Hail Notifications.
This service sends out an email notification to your insured if the probability of hail greater than .5" is detected within a buffered radius of one mile around each field or section that exists on their policy. The email will contain their policy number, county and crops potentially affected, and will provide a link to their policy within EASYview Weather. The EASYview Weather system will open on the policy and hail event in question for further analysis and exploration. This notification gives them the opportunity to review the notification, check on the potential damage, and contact you in the case of a loss.
This service to our agents and agencies has proved to be very valuable and helps move the potential claims process along quickly. With the ability for our insureds to have the same opportunity to sign up for these alerts, it will open lines of communication on all sides.
Let your insureds know that you have another service to offer! We have quick reference guides, training videos, and marketing reps available to answer any questions you may have.