2020 NCIS Update Highlights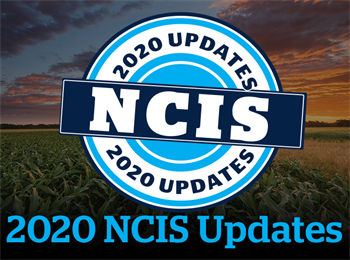 NAU Country is committed to keeping you informed on the crop insurance industry updates from the 2020 National Crop Insurance Services (NCIS) meetings. Find out below what changes are coming for the Supplemental Coverage Option, assigned yields, cover crops, Margin Protection, and so much more.
Supplemental Coverage Option (SCO) and Agricultural Risk Coverage (ARC) / Price Loss Coverage (PLC) sign-up
Sign up at the Farm Service Agency (FSA) for ARC/PLC is expected to begin September 1, 2019. It will then run into the 2020 calendar year. This will cover both the 2019 and 2020 crop years. A producer cannot have SCO and ARC on the same acres.
For the 2020 crop year, producers that have purchased SCO will be required to annually report acres that have ARC elected, or will have ARC elected on their acreage report.
A producer who reports acres with SCO before signing up for ARC and then later puts ARC on those same acres will have ARC, be ineligible for SCO, and owe 60% of the SCO premium on those affected acres. Reference bulletin MGR-19-016.
For more details on SCO, please reference our SCO Fact Sheet.
Assigned Yields for 2020
For production reports certified on or after June, 30, 2019, when an Actual Production History (APH) Review requires the use of assigned yields, the assigned yields will be applied to the Basic Unit that contains the incorrect Optional Unit certification. The previous procedure would apply assigned yields to the entire crop. This change has been written into the 2020 Basic Provisions and will be incorporated into the 2020 Crop Insurance Handbook prior to the November 30 Contract Change Date.
Late Production Data Reporting Penalty (LPR)
Similar to a Late Sales Reduction (LSR) penalty, a LPR penalty will be applied to a P15 yield record if that record is initially accepted by RMA's PASS system after the reporting deadline for the week containing the 30th calendar day after the Production Reporting Date.
LPR penalties, like LSR, increase from 1% to 2%, and up to 3% for each 30 days late. However, LSR and LPR reductions together are capped at a total maximum of 3%.
Veteran Farmer and Rancher (VFR), Paragraph 302 in the General Standards Handbook (GSH)
VFR benefits and procedures mirror Beginning Farmer and Rancher (BFR) with some exceptions:
A spouse's VFR status does not impact whether an individual is considered a VFR (both husband and wife do

not

need to be VFRs to receive VFR benefits on a Spousal policy).
A VFR can qualify for benefits in one of two ways:

Sum the number of years operating a farm or ranch and subtract that number from five (5). This is the "BFR" way, except VFRs cannot exclude years of operating a farm or ranch due to being under 18, in full-time duty in active military service, or in a post-secondary education program.
The date of first discharge, unique to VFRs, which allows the veteran to receive benefits for the first five (5) years after the first date of discharge, even if that veteran has previously operated a farm or ranch for more than five (5) years.
Cover Crops
There was an emphasis in the Farm Bill to make it very clear to producers that once a cash crop is planted, insurance attaches and cover crops are part of a good farming practice, just like any other management practice (fertilizer application, seeding rates, tillage practices, etc.).
The biggest change in 2020 pertains to cover crops and the summerfallow practice (SF). If a producer plants a cover crop in the fall, then does not harvest the cover crop and terminates it by June 1, the acres planted the following fall can still be considered summerfallow (the months the acres contain a cover crop equate to the acreage lying fallow).
There is a new set of Cover Crop Termination Guidelines for the 2020 crop year.
Native Sod (NS), Paragraph 403 in the GSH
The 2018 Farm Bill resulted in two sets of rules, with any ground being broken after December 20, 2018, falling under the new procedures.
New procedures include:
NS penalties will now be applied to all insurable crops, not just annuals.
NS now applies to all insurance plans.
Four (4) years of planting a crop is no longer enough to remove a NS designation, the producer must now have four crop years of an

insured

crop before NS is removed.

Only FCIC crop insurance counts towards the four (4) crop years of insurance; NAP does not and CAT coverage does not.

An N8 code is used to identify NS tilled under the 2018 Farm Bill, as well as a requirement to provide the NS Breakout Year for any acreage broken out December 21, 2018, or later.

The DM code is applicable to both sets of NS procedures.
At this time, RMA is still determining how they will handle the NS acres broken out for the 2019 crop year after December 21, 2018.
Margin Protection (MP) updates
The Margin Protection modifications for 2020 can be found in the bulletin: PM-19-034 Margin Protection Plan of Insurance - Modifications Effective for 2020 and Succeeding Crop Years.
The data source for all the county yields used for MP is now RMA, not NASS.
As a result, final county revenue/yield release dates have changed:

Corn, soybeans, and rice are now prior to June 16, versus April 16 in 2019.
Wheat is now prior to April 16, versus April 1 in 2019.
White/Waxy corn is insurable under MP only as the grain type, if the producer has insured as the grain type under the base policy. If insured under the base policy as White/Waxy, the acres are not covered under MP.
RMA added a Special Provisions statement that will allow the insured to change from an Enterprise unit election on MP in the fall to a Basic/Optional unit structure in the spring, to match the base policy.
Resources:
Whole Farm Revenue Protection (WFRP) updates
RMA has plans to make changes to WFRP. Currently these updates are still in draft, but we will continue to keep you updated as we know more.
Please be assured that NAU Country will be ready to handle any crop insurance changes efficiently and effectively. We offer training for your region, system updates, as well as brochure and website changes. Our team will make sure you have the information you need to be successful! Please register for our Fall Update Training Courses happening now!