2020 Whole Farm Revenue Protection updates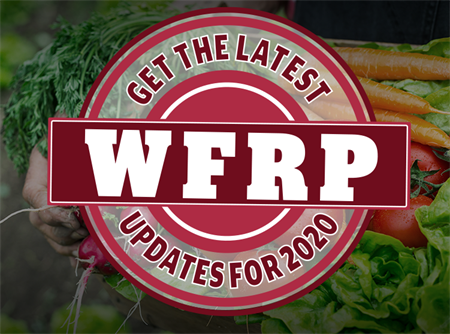 NAU Country has made dedicated efforts in all facets of our team to become the Whole Farm Revenue Protection (WFRP) experts, providing you with updates, training, and the most knowledgeable staff in the industry. As we look ahead to 2020, the Risk Management Agency made several changes in the Whole Farm Revenue Protection (WFRP) program.
The Agricultural Improvement Act of 2018 (Farm Bill) enacted on December 20, 2018, includes language in Section 11122 to improve effectiveness of WFRP. Per the Farm Bill, the Risk Management Agency (RMA) held several stakeholder meetings with agents, producers, and grower groups to solicit recommendations to increase flexibility and effectiveness of the program. As a result of these meetings, RMA presented several changes to the Federal Crop Insurance Corporation Board of Directors (FCIC Board). On June 4, 2019, the FCIC Board approved the following changes to the 2020 WFRP plan of insurance:
Increase expected revenue limits for animals, animal products, and nursery commodities from $1 million to $2 million.

Limits insured revenue for animals, animal products, and nursery commodities to $2 million.
Farm operations with over $2 million in animal/animal product or nursery commodities may be eligible for WFRP.
Offer options to help moderate the impacts of disaster years on historical revenue.

Revenue Exclusion - exclude the lowest historical revenue.
Revenue Substitution - substitute low historical revenues with 60% of the historical average.
Revenue Cup - limit decreases in historic average revenue to 90% of prior year's approved revenue.
Exclude disaster and program payments from historic allowable revenue and revenue-to-count at claim time.
Revised the indexing calculation to trend all historical revenue years up to the current year.

Capped at the highest historical revenue amount.

Including Noninsured Disaster Assistance Program (NAP) as revenue-to-count.

Treats NAP the same as non-reinsured supplemental policies.

Added language to allow coverage for Industrial Hemp production.

Must comply with applicable state, tribal, and/or federal regulations.

Coverage eligibility includes that produced under the research pilot requirements of Section 7606 of the Agricultural Act of 2014.

Must be grown under a marketing contract with a processor.
Will not offer replant coverage at this time.
"Hot" hemp will not be considered an insurable cause of loss.
The following materials are on the RMA website (http://www.rma.usda.gov):
Whole Farm Revenue Protection Pilot Policy
All Actuarial Information
Frequently Asked Questions
Fact Sheets
The WFRP Pilot Handbook will be released by November 2019.
NAU Country is busy updating our forms, systems, and quoter (WFRP quoting will be disabled while these changes are being implemented) while working with RMA on all the new requirements. We will also be updating our WFRP webpage. We will keep you posted as our system for 2020 develops. As always, our Marketing Representatives and Underwriters are always able to assist with your questions. 2020 update training and webinars will be announced shortly. We look forward to partnering with you on your Whole Farm Revenue Protection policies.