IT Product Update - April 4 Release

New look and feel for the Notice of Loss!
The Notice of Loss (NOL) screen in EASYwriter Pro® and the Agent Portal, though incredibly user-friendly and intuitive, received a user-interface update to resemble our NAU Country mobile NOL, plus it comes with some new exciting features.
Click here to access our Notice of Loss Tips and Tricks for a step-by-step walk through of how it works.
Coverage level validation on Citrus fruit groups
EASYwriter Pro has been updated to return a notification to users entering coverage records for Florida citrus crops that are within the same citrus fruit group when the coverages elected do not match.
Batch Printing adds a new policy filter
To assist in printing, we have added a County filter under the Batch Policy Filter section within the Batch Print Manager. You must enter in a State selection, for the County feature to be utilized and populate.

Approved Yield column display in Acreage/APH grid
We have added an Approved Yield display to the right of Price column in the Acreage/APH tab. You may select or deselect the Approved Yield column in the Column Chooser and may place the Approved Yield column anywhere in the Acreage Line grid. Once you have updated these column settings they will remain in this position as your user preference.
Cotton STAX changes
Beginning in the 2019 crop year, cotton acreage enrolled in the ARC or PLC programs administered by FSA will be ineligible for STAX coverage. This change has been implemented in the EASYwriter Pro system.
High Variability tests for Yield Exclusion (YE)
Our EASYwriter Pro system has been modified per the 2019 crop insurance handbook guidelines on how High Variability tests that include the YE option should be conducted.
Dairy Revenue Protection (DRP) Schedule of Insurance enhancements
The DRP Schedule of Insurance was updated to include Expected Milk per Cow, and the column CPWF was renamed to Class III %.
Landlord/Tenant Checkbox added to the EASYmapping Acreage & Production book
To help eliminate keying errors, an agent request to have a Landlord/Tenant (LL/TN) checkbox added to our EASYmapping Acreage & Production Book has been implemented.
Approved Yield Statement addition
We have added the Agent's "Approved APH Yield" statement to the Acreage Report and the Preliminary Acreage Report.
The statement reads, "I certify that I am responsible for establishing the approved APH yields that are used to calculate the production guarantees contained in this acreage report and that such approved APH yields are correct to the best of my knowledge."
NAU Country mobile photos

Our "Take Photo" feature on the Field Details popup has been expanded to all users when viewing a mapped MPCI policy. To use the functionality: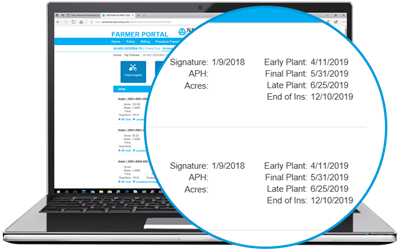 1. Open the "Settings" app on your phone
2. Enable Location Services for the NAU Country mobile app
3. Log into the NAU Country mobile app
4. Select a mapped policy
5. Tap on "Actions" for a smart phone
6. Navigate to the "Policy Map"
7. Tap a field to view the Field Details window
8. Tap "Take Photo" on the Field Details popup
9. Take the photo
10. The photo will be saved to the Photo Library/Folder on your device
Important Farmer Dates
Now, in the Farmer Portal, we have added important dates to the Coverage and Units display. For Coverage, you will now see the Sales Closing Date. For Units, the Sales Closing, Production Due, Acreage Due, Early Plant, Final Plant, Late Plant, and End of Insurance dates will display.