IT Product Update - December 14 Release

New Report Center is coming!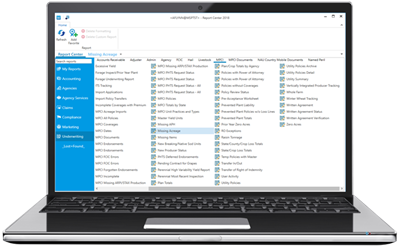 Getting information you need just got a whole lot easier with our new Report Center found in EASYwriter Pro® (EWP). Let's start with our Quick Links. These will still work the same as they did before, whether you access them via the Agency Dashboard or the EWP landing page. The one exception is now some of the reports will take you to the new Report Center. Below are the reports from Quick Links that utilize our new Report Center:
EASYmapping Totals
Debt Termination Report
NAU Country Mobile Acreage Reports
ACRSI Import Listing
Once in the Report Center, you will now be able to customize, save, and search for reports with our user-friendly interface. Some of the new new key features include:
Adding reports to your "Favorites"
Creating custom filters for applicable reports
Searching for reports
Easy-to-use tabbed listing for quick navigation
Saving quotes as PDFs via the NAU Country mobile app!
You will now be able to save quote documents as a PDF, even when your mobile! In addition to this, you will also be able to save your quotes as either "Private" or "Shared".
Agency Dashboard enhancements!
We have enhanced the Claims quadrant from within the Agency Dashboard to now show an adjuster column. We have also added the ability to save and print.
Production Hail updated!
Starting in spring of 2018, all states where Production Hail is available will now be able to utilize the Yield Exclusion (YE) option to their APH!