IT Product Update - December 20 Release
Dairy Revenue Protection (DRP) Product Comparison Review
EASYquote® now offers the ability to do a product comparison between pricing options, quarter endorsements, and coverage levels. This way you can find your best coverage prior to sales.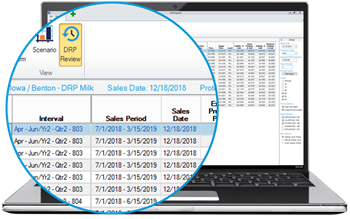 To access the DRP Review:
Enter into 2019 EASYquote.

Select the "DRP" or "Open" folder to open an existing DRP policy.

Once your Quote Line Attributes screen is populated, click "Save".

At the top of the screen, the third icon will display "DRP Review". Select this icon.

You will now see a grid of all the pricing, liability, and premiums based off of your original quote.

To alter the grid display or values, utilize the Settings on the right hand side of the screen.

To print this page, select "Reports" and then "DRP Interval Review".
Hail Premium Modifier Product (PMP) discount
The Hail PMP discount can now be seen and selected within EASYquote. On a Stand-Alone Hail policy, it will display in the Full Farm Grid, within the Hail Line Attributes window, on the Hail Application and reports (under discounts). For an EASYhail policy, it will display in the Hail tab of the Quote Line Attributes screen.
Unit Division for Fresh Market Beans
EASYwriter Pro® has been modified to allow enterprise units by planting period for fresh market beans.

Summerfallow (SF) Rule update
For 2019 and forward, we have added logic into EASYwriter Pro that when validating the SF/CC rule, the Continuous Cropping (CC) database must contain at least one year of planted acreage. This was added into the 2019 Crop Insurance Handbook.
Multiple County Enterprise Units (MCEU) 2019 HR-ACE changes
EASYwriter Pro will allow Enterprise Units (EU) and Enterprise Units by Practice (EP) on HR-ACE policies with a filing date of November 30 or later.
Release Notification
The release notes notification that displays as a yellow bar at the top of your main form window after a release will now continue to display until the user manually clicks the "X" to close.
Whole Farm documents
The following updates have been made to the 2019 Whole Farm Operation Report:
Added the question, "Did the county where the majority of revenue is expected to be earned change within the policy year?"
Changed the Rate and Commodity Code columns
Changed the Percent Produced for Sale to Percent Produced to Sale
Changed the Actual Percent Produced for Sale to Actual Produced to Sell
In addition, we have added the "Rate Code" column to the 2019 Expected Value and Yield Source Document Certification Worksheet.
Livestock Policies report
The Livestock Policies Report is now available to agents. This report will allow you to run a list of your Livestock policies. This report can be found in the Report Center. It is under the Underwriting department and Livestock tab.
View more IT Updates from other releases