IT Product Update - May 17 Release

NEW! NAU Country public website
We have updated our NAU Country public website to be more intuitive, including a restructured navigation specifically fit for our agents and farmers. The new structure and layout, plus a sleek new mobile-friendly design will make it fast and easy for you to use our site, whether you are in the office or on the go!
Easy Login: We have kept the login option in the top right corner of the screen, but we have added three large buttons to the center of the webpage for you to be able to quickly access the Agent Portal, Farmer Portal, and EASYwriter Pro®.
Grain Future prices, Revenue prices, and Market prices: It is so important to know what trading prices are from day-to-day, as well as to have easy access to Discovery Prices and Volatility factors. We have updated our pricing page to include these resources in one location. In addition, we have revamped our Revenue prices functionality to allow better searching capabilities, easier viewing, and access to the daily opening and closing prices.
Policy Provisions: The policy provisions can be accessed by you or your insured at any time through the NAU Country public website "Resources" page or the Famer Portal "Documents". The Policy Provisions are much easier to access and the look and feel makes them so easy to view.
Commission Factors, Training Opportunities, Loss Guidelines, and Compliance Reviews: These four sections are important to your business. They will be accessible under the Agents "Dedicated Service" menu option. Important information is just a click away!
Agent and Farmer Tools: We have broken down our tools into easy, understandable categories such as Sales, Processing Efficiencies, Business Management, and Competitive Advantage.
Products: Make sure to check out all the MPCI, Crop-Hail, and Private Products that we offer. We now have a detailed list of all the options available to you and your policyholders.
Tips and Tricks: Try the new filter functionality! Search by Field Insights™, EASYview Weather,

EASYquote®

, Crop-Hail, and more!
Farmer Portal
Make sure your policyholders are aware that the portal is changing! Although, no functionality is being removed from the portal, the look and feel is definitely changing. We do not want to take them by surprise! If your policyholder is not already signed up, make sure you get them signed up once the site goes live. More information coming soon!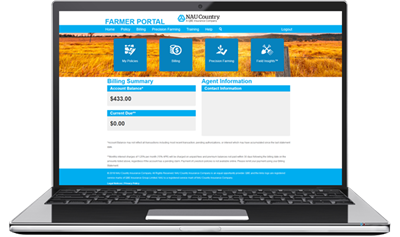 View coverage information, anytime:
View coverage, unit, and acreage details from your current policy.
Interact with your policy maps.
Check billing details.
Review your Schedule of Insurance (SOI).
Print policy provisions.
Enroll in Direct Deposit.
Inform yourself with EASYview Weather.
Access weather metrics and field conditions with

Field Insights™

Review training user guides, videos, and tips and tricks.
Claims tracking made easy:
View claim status tracking and details.
Stay up-to-date on Adjuster Call Logs.
Review loss payment details, including dates and indemnity.
Locate adjuster contact information.
Note: If your policyholder already has an account, their login information will remain the same.
Training will be offered, click here to register!
Precision Farming cloud access
Technology plays an important role in farming with the use of GPS enabled planting and yield monitors. To provide the excellent service to our agents and insureds, we continually strive to make the use of Precision Ag yield and planting data more user-friendly and intuitive. Which is why we have added cloud based reporting now through our Precision Farming system.
From within the Precision Farming Dashboard, when you select "Upload Files", you will now have a tab for "Cloud Import".
Rainfall Index (PRF, Apiculture, and Annual Forage) user-friendly Acreage Report
In order to improve the usability of the acreage report for Rainfall Index, we have added vertical lines from the grid to the header as a way to better communicate to our agents that they can annotate changes.
Peanut Revenue
EASYwriter Pro® and EASYquote have been updated to handle peanut contracts on Plans Revenue Protection (02) and Revenue Protection with the Harvest Price Exclusion (03).
Reference Year Adjustment Factor (RYAF) updates for contract seed beans and contract seed peas
Contract seed beans (CSB) and contract seed peas (CSP) use reference year factors for YA calculations. 2018 will be different for the contract seed beans since the Risk Management Agency (RMA) has updated T-yields on this type for 2018. Both CSB and CSP will be also referencing 1987 for any ancient yield history (low actual yields 2002 and prior which may be eligible for YA). EASYwriter Pro® has been updated to handle these changes.
Document DRAFT change
NAU receives signed policy documents from agents and policyholders that have the DRAFT watermark on them. Documents that have the DRAFT watermark on them are not retained in EASYwriter Pro, they are not stored in Document Manage, and CANNOT be used as official documents.
If you choose to print policy documents from the preview screen, select the "Print without DRAFT watermark" option to avoid printing or signing the DRAFT document which cannot be accepted by NAU Country.
Updates to the Schedule of Insurance (SOI) Unit Summary
We have added the Total Production, Yield, and Rec Type fields to the Unit Summary line on the regular SOI, Preliminary SOI, and Renewal SOI. Currently, when a unit has more than one acreage line associated to it, a Unit Summary line is created to display the Total Unit Acres and the Total Unit Guarantee on the SOI documents. The Total Production, Yield, and Rec Type fields have been added to the Unit Summary line as well so insureds can report production on that one unit the next year (rather than individually for each acreage line).