IT Product Update - May 2 Release
NAU Country's New EASYmapping
®
is here!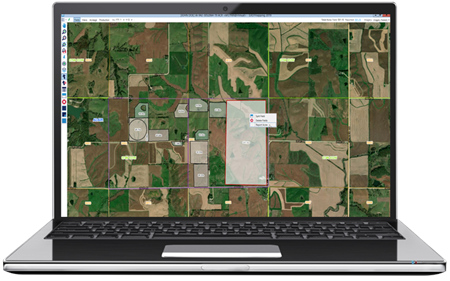 Wherever you're located, whatever you're producing, we provide the best view of your operation. As the crop insurance industry and our agent's needs continue to evolve, so has EASYmapping. From the core functionality, to the look and feel, to some very exciting enhancements and features, EASYmapping has been completely re-envisioned.
EASYmapping offers one of the simplest and most effective interfaces in the crop insurance industry. Our maps fill the window edge-to-edge and automatically re-size to fit your screen. Our system tools adjust to any location that fits your workflow, which provides you the largest and most intuitive work space possible. Some of our new features include:
Mapping fields, adding units, and entering acreage all within the EASYmapping system.
Utilizing EASYmapping dynamic imagery to update new documents.
Ability to work in EASYwriter Pro®, while EASYmapping is still open.
Creating Views with the new "Draw by Field" tool.
Reporting acres at a farm level, in addition to the reporting by view option.
Updating to the latest linked CLU FTF.
With such an exciting update coming, we want to make sure you are more than prepared to utilize one of the most used features in EASYwriter Pro. Therefore, we have training webinars available where we will demonstrate the original functionality. Click here to register for an upcoming training session.
EASYquote
®

updates

EASYquote will now display (NS) behind the coverage on quote lines that have Native Sod selected. This will also be reflected on the quote reports.

The SCO Coverage Percentage is now required for 2019 and forward. To allow the running of Plan Comparison quotes, we have updated the Report Options Editor to default a Coverage Percentage on new coverages.
Master Unit enhancements
We have done some updates to our EASYwriter Pro® system when Master Units contain No Longer Farming (NLF) and uninsurable units. The following changes have been made:
NLF child units will be included in the automatic master unit calculations and will be kept tied to the master unit.
Uninsurable child units (not due to NLF) will not be included in the automatic master unit calculations and will be untied from the master unit.
NLF units will be included when using the create "Master Unit" wizard.
A warning has been added when a child unit is tied to master and marked as uninsurable (not due to NLF).
A warning has been added if a user tries to delete a child unit that is tied to a master unit. The user will need to mark child unit as NLF or untie it to delete.
Catastrophic (CAT) Risk Protection Endorsement Fee
Due to changes in the Agricultural Improvement Act of 2018 RMA has increased the Catastrophic Risk Protection Endorsement Fee from $300 to $655 for each county/crop. These changes will take effect with the April 30, 2019, contract change date.
New Document Option for grouping Margin Protection (MP) and Revenue Protection (RP) coverages
A new Document Option has been added when printing the Schedule of Insurance (including the Renewal, EASYmapping, and EASYmobility SOI). The Document Option titled, "Group MP Lines" when selected will display the Margin Protection (MP) unit after the corresponding Revenue Protection (RP) unit for the same crop/county. The default is unchecked on this option.
Sugar beet unit of measurement conversion for California
As part of the 2020 Reinsurance Year rollover, the sugar beet unit of measure conversion from standardized tons to pounds of raw sugar was completed for California only. All other states were completed in the 2019 Reinsurance Year.
Mass update for Nursery CAT selection
We have added an "Apply to All Units" option on Nursery CAT policies for the CAT Previous Year Sales and Actual Inventory Value fields.