IT Product Update - November 1 Release

Training Certificates now easier to view
Agent Portal has been updated making it easier to view your Training Certificates by showing all applicable years. In addition to this, a new filter has been implemented to allow you to filter down to a specific year.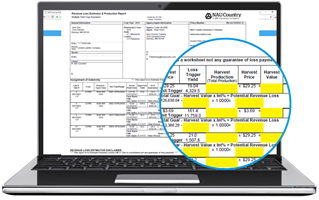 Revenue Loss Estimator
A new column as been added to the Revenue Loss Estimator which captures the Production Type. This will allow you to continue to use the report as both a tool to determine potential losses, and also reporting production at the same time.
Document highlighting tool

Ever print an APH Report and wish you could highlight the areas you need your policyholder to fill out? Well now you can! A new Document Option as been added to Batch Print Manager allowing you to highlight specific fields on both the APH Report and the Schedule of Insurance (SOI).
Report of Certified Acres
We updated the Quick Links to include the Report of Certified Acres. Now just click, key in your agency code, and you can run the report for your entire book of business!