2019 ARC vs. PLC Comparison Tool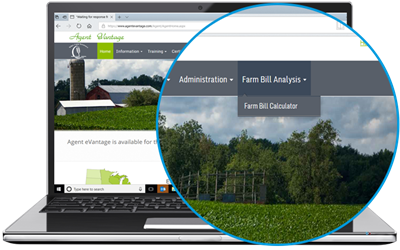 Watts and Associates, along with NAU Country Insurance Company, are offering a NEW Government Program Decision tool focused on Agricultural Risk Coverage (ARC) and Price Loss Coverage (PLC) Comparisons. This tool will allow you to explore various "what if" scenarios for ARC and PLC depending on your state, county, crop, and practice. It will also assist you in guiding your producers in their Farm Bill decision-making process.
How to access the ARC vs. PLC Comparison Tool?
Log into www.AgenteVantage.com.

If you do not have a username and password, please reference the steps below under "Don't have a login to Agent eVantage?".

In the menu bar, select "Farm Bill Analysis". Then select "Farm Bill Calculator".
Enter in your State, County, Crop, and Practice.
Under the Farm Bill Scenarios:

The "i" icons are displayed when inputs are needed for the line. Hover over the icon to display information.
The yields defaulted are trend adjusted.
You can enter in a suggested county's 2018 and 2019 ARC yield and explore various "what if" scenarios.
Marketing Year Price is the national weighted average price received by producers for the current crop year.
The PLC Payment yield is available to the producer from the FSA and can be updated next year in 2020.
Click the "Calculate" button to display the payment on ARC vs. PLC.
Note that once you click "Calculate", two links appear. The link on the left is a slide deck used at group and individual meetings to explain the details of the Farm Bill and FSA Programs. The link on the right is a Farm Bill Handout for reference.
Highlights for agents
PLC looks like the best choice for all major crops (except soybeans) for 2019 and 2020.
If corn and wheat are moved from ARC into PLC for 2019-2020, the Supplemental Coverage Option (SCO) becomes a great choice for those taking less than 85% Revenue Protection Coverage on the 2019 crop. (SCO has a 65% subsidy).
Crop insurance is still the first and best financial safety-net vs. PLC or ARC.
Agents can help producers determine if Farm Service Agency (FSA) Program yields should be updated for 2020 next year.
Don't have a login to Agent eVantage?
If you do not have an Agent eVantage website login, contact your NAU Country Marketing Representative.
If you have forgotten your Agent eVantage login, contact the NAU Country Call Center at callcenter@naucountry.com or 866.942.6724.
If you have an Agent eVantage login through another AIP and want to connect your NAU Country account, see the following steps:

Log into the Agent eVantage website.
In the bottom left corner under Account Linking, there's an Account Linking Tutorial that will walk you through linking your accounts.