Acreage reporting and Field Insights™
Acreage reporting is in full swing and for many, getting those acres keyed into EASYwriter Pro® (EWP) is nearly done. Now it's time to utilize the features implemented into Field Insights to maintain those crops.
How does it work
Acreage reporting has not changed!
The farmer provides the acreage information to you
Key the acreage information into EWP, whether through EASYmapping® Acreage Reporting or Quick FTF
Commit the policy
The acreage information will automatically transfer to the associated field in Field Insights. Any edits made to the field, like adding a pivot or splitting a field, will also update the applicable field within Field Insights
Once acres are uploaded from EWP into Field Insights, the following information will be listed for the applicable Field Card: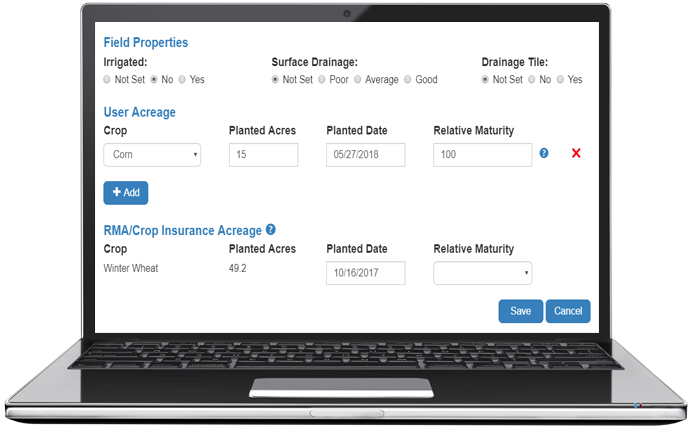 Crop
Planted Acres
Planted Date (can be edited by the policyholder)
Irrigated status
The policyholder can use the functionality Field Insights offers with this information, but for the most accurate representation of the field, the following information should also be entered manually:
Surface Drainage quality
Drainage Tile?
Relative Maturity
Please note, once the above selections are made, they will roll from year to year for the applicable field and will not change unless manually changed.
Vice Versa
On the flip side, any acreage information keyed into Field Insights by your policyholder can also be imported into EWP as a starter row for acreage reporting purposes. Follow these simple step-by-step procedures on how to import Field Insights data into EWP:
Search for the applicable policy within EWP
Open the policy for endorsement
Click the "EASYmapping®" icon
Select the "Acreage" tab
Select the "Import" button
Choose "Field Insights"
Your starter rows will be generated based on the acreage information that was pulled from Field Insights. If EASYmapping Acreage was not able to accurately determine the correct unit, the user will need to select the applicable unit from the drop down.
Please note, when importing acreage information from Field Insights, the "Acres not yet certified" checkbox will automatically be checked. You can create a Preliminary Acreage Report with the imported acreage data to collect a signature from your policyholder.
Questions and Resources
If you have any questions, comments, or concerns regarding this feature, please reach out to your local Marketing Representative or Underwriter.
If you have general questions about Field Insights, you can reach out to your local Marketing Representative as well, otherwise we have also provided a step-by-step user guide along with several YouTube videos that cover all the current functionality found within Field Insights.