Acreage Reporting Systems
The insured, or authorized representative for the insured must sign and submit an annual acreage report for those policies that require an acreage report. The acreage report is used to determine the liability or amount of insurance provided and premium. It also establishes the insurable share at the time insurance attaches. Most crops require an acreage report except Nursery, Aquaculture, and WFRP, which establish coverage on a different basis.
Documents used for reporting acreage: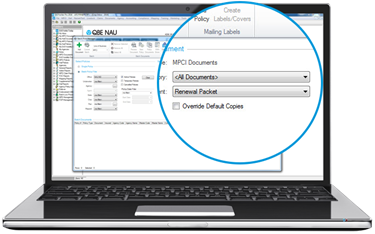 To print your acreage reports through EASYwriter Pro, you will simply need to use one of the following three options:
Batch Print Manager:
Select Batch Printing under the MPCI drop down menu from the home screen of EASYwriter Pro.
Document Manager:
When in a policy, click the "Policy Documents" button to bring up Document Manager.
Generate a document through the commit process:
When a policy is committed, select the "New Documents" checkbox and add the selected document in the Endorsement Documents window.
Agents can also order Map Books through their
Agent Portal
by following this simple step-by-step process:
Log into Agent Portal
Hover the mouse over the EASYmapping tab
Click "Map Book Ordering" from the drop-down list
Select "New Order"
One size does not fit all!
We are aware that one way of processing does not fit everyone. That is why we offer a variety of methods to accomplish acreage reporting. Check them out below!
Map Entry
NAU Country offers a Map Based Acreage and Reporting System within EASYwriter Pro called "Map Entry". Our system is incredibly user-friendly and provides visual images of how policies are mapped. The beauty of this system is that agents can complete the task of reporting acres directly on the mapped policy! Multiple benefits can be derived from using the "Map Entry" system including increased accuracy of reporting acres and accurate identification of High-Risk Ground Acres. Find out more on how to use Map Entry by reviewing the "EASYwriter Pro Map Entry Acreage Reporting" user guide.

Quick FTF
We have all heard it before, government requirements on Common Land Unit (CLU) entry are on the rise. Some agents love the ease of our EASYmapping and others struggle with the mapping practicality in their regions. NAU Country realizes that one solution does not fit all, so we introduced Quick FTF (Farm Serial Number, Tract, and FSA Field Information).

Quick FTF enables users to key in Farm Serial Number, Tract, and FSA Field information straight from their CIMS 578 report without having to touch mapping. The ease of keying in CLU information into our grid based entry screen may even sway some of our EASYmapping die-hards to give it a try. The purpose of Quick FTF is to help all agents achieve their CLU requirements.

As an additional benefit, after your data has been updated in Quick FTF, our system will create actual maps for you behind the scenes. Meaning, by using Quick FTF, you can still take advantage of all our mapping products for your insureds. Check out the "Quick FTF User Guide" for more information.

Report acres on the go

Acreage reporting with NAU Country has moved outside the office and into the fields or insured's homes! We offer NAU Country mobile, our iPad and smart phone application which lets you report acres when and where it's convenient. Follow the steps below for reporting acres with NAU Country mobile:
Download NAU Country mobile from your mobile device
Sign into NAU Country mobile with your login credentials
View from a smart phone

Select your policyholder
Select your policy
Choose "Actions" at the top of the screen
Tap on "Acreage Reporting"

View from a tablet

Select your policyholder
Select your policy
Within the "Actions" section, select "Acreage Reporting"
Take your summer back!

Next year, take back your summer, by using our Preliminary Acreage Reporting feature that allows you to key in preliminary acres early in the crop year, then just mark them complete as they're verified as planted by the policyholder. Reference the user guide titled "Preliminary Acreage Reporting User Guide" for step-by-step directions.
Field Insights™ Acreage Reporting
Pre-populate your acreage reports with data captured through Field Insights. Yes, that is correct! If your insureds utilize Field Insights and key in accurate data, you can import that right into our Map Entry system.

Additionally, after the planting season, you have the ability to push their acreage report data back into Field Insights.
Click here to find out more!

Does your farmer have a Global Positioning System (GPS)?

If so, we offer Precision Farming! Offer your farmer the ability to make reporting acreage information easier. We offer cloud based reporting right from their tractor. Plus, you will be updated with each farmer upload and report request!

It only takes three easy steps to complete acreage reporting. They just need to upload their yield and planting monitor files (or submit via the cloud), request a report, and then you and your insured need to sign and date the report. Check out our "Precision Farming Dashboard User Guide" and the "Precision Farming Dashboard Training Video".

Are your farmers interested in simple, hassle free acreage reporting?

NAU Country is part of the Acreage Crop Reporting Streamlining Initiative (ACRSI). Your farmers can simply report their acres to you, including their non-MPCI acres. We will automatically transfer them to the Risk Management Agency (RMA) clearing house. They are then sent on to your local FSA office. This will make your farmers time spent at the FSA office a quick and easy experience as they will simply need to request to have their reported acres pulled in for review. To find out more on how to import ACRSI acres, check out the "Acreage Crop Reporting Streamlining Initiative (ACRSI) System User Guide".

Companion Policies
Companion Policies in EASYwriter Pro help manage relationships between policies when there is shared ground between them. These relationships may then be used to perform data transfers between policies, as well as coordinate adjuster activities when claims or inspections are created for policies with shared ground.

After keying in acres for one policy, you can use the Companion Policy link to transfer the data to its companion automatically. Find out more below by accessing the "Companion Policies Quick Reference Guide", our "Companion Policy Training" video, or the Companion Policy User Guide.

EASYmapping®

NAU Country saves our agents and farmers time by offering the industry's premier mapping services! EASYmapping, our complimentary mapping application is the most efficient and user-friendly program available for both agencies and farmers. Agriculture may become more complicated every day, but reporting and tracking crops has never been easier. Check out our "EASYmapping User Manual" and our many video tutorials on "EASYmapping".

In addition, we offer the ability to build the custom views your insureds are looking for with our self-service, no hassle mapping customizations. Create, modify, and sort custom views to make acreage reporting easier and more efficient with EASYmapping Views! Check out our "EASYmapping Views" PowerPoint presentation or the "EASYmapping Views Walk-Through" training video.

And we cannot forget Custom Crop Colors. Are you tired of trying to determine what crop is in the field based on the color? Custom Crop Colors gives you the ability to customize any row crop, perennial by variety, and/or Non-MPCI crops with any color you like!
Follow these simple step-by-step instructions to learn more about how Custom Crop Colors can help you:
Click the "Mapping" tab found on the Welcome screen of EASYwriter Pro
Select "Agency Crop Color"
Click "Edit"
Highlight the applicable crop you wish to edit and select "Edit Crop"
Choose your desired color and then hit "Save"
You can always preview and restore crop colors by simply clicking the "Preview" and "Restore Default" buttons found in the Edit Style and Pattern screen.
User Guides and Resources:
To ensure you, our valued agents, have the appropriate support during the acreage reporting season, we have created several User Guides, Training Videos, and other resources to assist you. If you cannot find what you are looking for above, please feel free to reach out to us with questions or a training request.