Field Insights™ Prospects
Up until now, Field Insights™ was exclusively accessed via a live policy, which made it tough to show potential new farmers the amazing features Field Insights provides. Now, with just a couple quick clicks, you can show any new client Field Insights' full functionality. This includes features such as the Spray Window Advisor, Growth Models, and the Harvest Advisor.
How does it work
The prospect mode can be accessed from both the web (Agent Portal) and the NAU Country mobile app. We will walk through examples of both below.
Agent Portal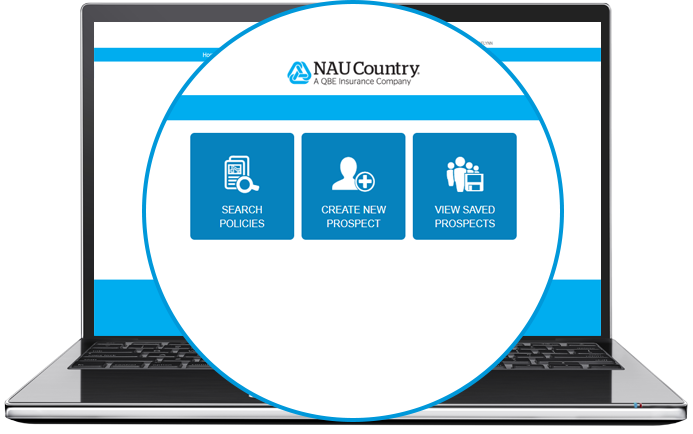 Log into the Agent Portal with your normal credentials. Click the "Field Insights" tab. You will be presented with three options:
Search Policies
Create New Prospect
View Saved Prospects
NAU Country mobile app
Log into the mobile app with your normal credentials. Click the "Field Insights" icon located in the toolbar between the "Policy Holders" and "Prospects" icons. You will be presented with two options:
New Prospect
Saved Prospects
Select the "Create New Prospect" button. You will be provided with the option to name your new prospect. Please note, you are not required to name the prospect as the system will automatically name each prospect in numerical order. Click "OK".
Once the map opens, you will first be presented with a Location Search. You can search for either an address, nearby town, or even a point of interest, e.g. "Starbucks, Fargo ND". You may also zoom into the desired area, and simply click on a field you would like to add. Once you click on a field, you will be presented with the Add Field? window. Here you can choose to "Add", "Edit", or "Cancel". Selecting "Add" will create a Field Card for the field. You can then continue to add additional fields and edit your Field Card at a later time. Selecting "Edit" will take you into the Field Card, to add additional field criteria (detailed information below). Selecting "Cancel" will bring you back to the map without any Field Card creation. Please note, you can add multiple fields, but you are only required to add one field in order to utilize the Field Insights' features.
Important: You are not limited to only being able to add a field with CLU information. If you click on the map where there is no CLU information, a point (where you clicked) will be added in place of a field to Field Insights.
If you added your fields all at once, you can now begin to edit the field's acreage and location information. When you click on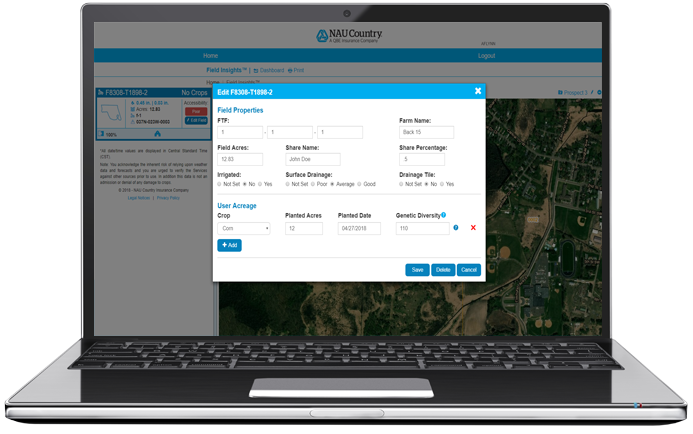 the Field Card, the "Edit Field" button will appear. When you click on the "Edit Field" button, you will see that the FTF, Field Acres, and Share Percentage will be automatically updated if the data can be found. If not, here are the parameters you can update:
FTF
Farm Name
Field Acres
Share Name
Share Percentage
Irrigated status
Surface Drainage
Drainage Tile
Crop information
The fields "Irrigated", "Surface Drainage", "Drainage Tile", and crop information are required to utilize the components for supported crops. Once you have updated your parameters, click "Save".
Please note: You also have the ability to delete a field from within the Field Card by simply click the "Delete" button.
What's next
Once you have your fields added with the acreage and location information updated, it's time to demonstrate all the awesome features Field Insights has to offer to your potential prospect. Let's specifically look at the Harvest Advisor!
Field Insights' Harvest Advisor looks at the optimum harvest moisture for supported crops, along with the user's target moisture. It then projects the ideal time to harvest which can greatly decrease the chance of a loss.
To use the Harvest Advisor: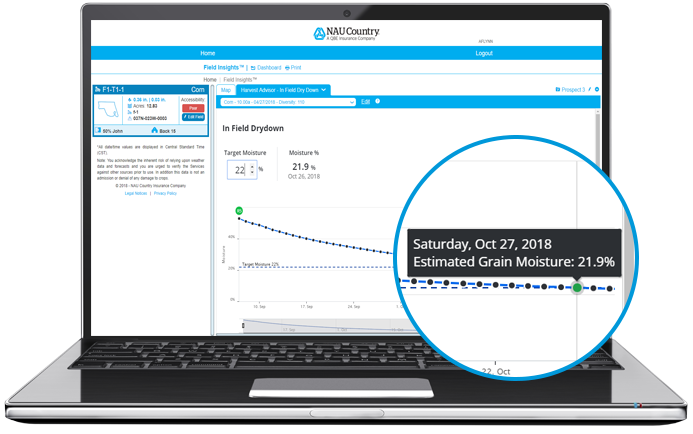 Start by selecting the applicable Field Card
Ensure acreage information is correct (must be a supported crop)
Click the "Select a Component" tab
Select "Harvest Advisor - In Field Dry Down"
Once Harvest Advisor is selected, simply input the "Target Moisture" and slide the line graph to the right to view your ideal time to harvest. Check out how missing the ideal time to harvest can greatly affect your chances of a loss below.
Corn has an optimum harvest moisture of approximately 23% to 25% allowing for kernels to shell easier and stalks to be generally stronger. Under this harvest moisture percent, it has a normal harvest loss of 1% to 2%.
Whereas, if the farmer delays harvest until the corn dries down to 17% to 19%, he is at greater risk of harvest losses from stalk lodging and ear drop. In fact, research shows that the harvest loss could increase to as much as 2% to 8%.
While testing Field Insights' Harvest Advisor with several claims adjusters, Mark Mossman Senior Vice President of Claims stated, "whether you aim to harvest early to minimize harvest loss percentages, or delay harvest to avoid higher dry down cost for long term storage…Harvest Advisor takes the guesswork out of harvesting".
Training and Resources
Like all of our exciting products we provide to our agents, we want to make sure you are up to speed on its full functionality, and Field Insights is no exception.
Please reference our Field Insights User Guide and our training videos found on YouTube for any questions you may have.