Whole Farm Revenue Protection (WFRP) Quoting
Utilize EASYquote®, the easiest and simplest way to give your policyholders the most accurate information about their WFRP policy, so they are best prepared to cover their farm.
How to quote
Follow these simple step-by-step procedures to generate a WFRP quote: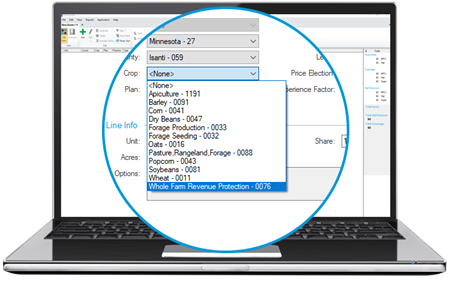 Log into EASYwriter Pro® with your normal username and password
Click "EASYquote" from within the Dashboard
Select "MPCI"
Key in your Quote Line Attributes

Under the "Crop" drop down menu, select "Whole Farm Revenue Protection"
Under the "Type" drop down menu, select the tax filer type

Enter in all applicable tax information under the Whole Farm History section

Enter the applicable MPCI Liability as this will effect the quoted premium
Click the green "+" button to add a commodity
Key in the Expected Income for each applicable commodity

Click "Save" once all required information has been inputted
Available Reports
Once you have your desired quote line(s) keyed in, utilize our Whole Farm Full Farm report to share with your policyholder. Follow the below steps to generate the report:
Ensure you are viewing the Full Farm screen
Click the Reports drop down
Navigate to the Whole Farm Quotes section
Click "Whole Farm Full Farm"
Select the desired information to be displayed in the Report Options Editor window

Please note, checking the "Include Whole Farm Coverage Summary" will display all keyed information

Print or Save the report as a PDF
NAU Country takes pride in offering the most innovative and robust quoting program to our agents and their policyholders. Let EASYquote, powered by NAU Country make crop insurance simple.