Get ready for the NEW EASYwriter Pro® Main Dashboard, Multi-Year functionality, and Navigation!
We understand that processing efficiencies are key to your business. NAU County's main processing system, mobile solution, and mapping functionality help increase productivity and service to your farmers, while providing you with information that is easy-to-use and access. We strive to continually improve your experience, which is why we have updated EASYwriter Pro with user-friendly screens, more intuitive workflows, and faster processing. So, what is the final piece, you ask? Well, we saved the best for last, coming on Wednesday, November 21, 2018, we will release our EASYwriter Pro Main Dashboard, Multi-Year functionality, and Navigation.
Benefits you'll appreciate!
Our new tabbed feature offers a browser-like interface with the security of a Citrix system. Now, EASYwriter Pro will allow you to shift focus from reports, to stats, to policies in a simple click. Similar to a browser, you have the ability to manage your tabs at the top of your screen and easily click back and forth between them.

Tab features are available for the Dashboard, Report Center, and current year Policy Editors for MPCI, Crop-Hail, Named Peril, and Livestock.
Details, details, details! The new tab feature will provide great detail from a policy perspective including policy type, policy number, and policyholder name. You'll never mistake which policy you are working on.

Customize your workflow with the ability to move tabs across multiple monitors and pin where you want them to stay.

You'll love the new docking feature which makes pulling policies from one monitor to another for efficient processing a breeze!
Do you want the Report Center to be your #1 tab? If so, you have the ability to pin your tabs and lock them into position for easy access.

One central location is now available for you to access your primary Main Menu options AND your Agency Dashboard. There is no longer a need to choose one or the other. You can now have the best of both worlds because the Dashboard is now within the Main Menu window.

Worried about Quick Links to your reports? Don't be! They are all still available in the Dashboard under the Quick Links drop down.

Multi-year functionality is now available within EASYwriter Pro! Do you ever wish that you could access prior year policies and claims without having to login to a new EASYwriter Pro session? Well, your wish has come true. Now, you can access prior policies and claims within the same session, as well as launch a completely new reinsurance year without having to login again.

There's more! In our Edit Party window, under the "Roles" tab you have quick access links to policies from previous years as far back as 2016!
We want to show you more!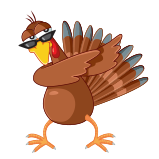 How does all this work? How can you learn more? We are excited for these new changes and want you to be comfortable with the new look. We are offering the following resources to prepare you for the change:
NAU Country will be conducting six (6) LIVE webinar training sessions on the following days to accommodate you. Click below to register today!
| | | |
| --- | --- | --- |
| Date | Time | Registration Link |
| Tuesday, November 6 | 10 a.m. | Register |
| Thursday, November 8 | 1 p.m. | Register |
| Tuesday, November 13 | 10 a.m. | Register |
| Thursday, November 15 | 1 p.m. | Register |
| Tuesday, November 27 | 10 a.m. | Register |
| Thursday, November 29 | 1 p.m. | Register |