New Agent Portal Coming Soon!
Our new Agent Portal, coming in mid-2020, will showcase a modern look and feel, that is simplistic and easy-to-use! The new web-based system offers a robust engine, sleek user interface, and strategic business management tools that will help you daily.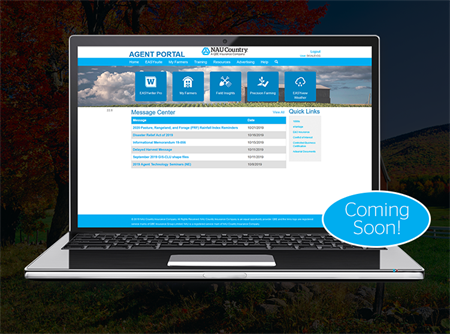 Until its official release in 2020, you have the unique opportunity to work in either the current Agent Portal or try the new Agent Portal beta version. The beta Agent Portal is a live "trial" version of the new Agent Portal. It is important to remember that some features have not fully transferred over from the current Agent Portal. Also, while in beta, don't be surprised if new updates appear each time you log in since it is still a work in progress. The good news is that you can access both portals at this time!
Whether you want to access your EASYsuite systems, manage policy details, or sign-up for continuing education courses, the Agent Portal has it all. When the Agent Portal debuts, you will enter a modern portal that matches our mobile features. Here are just a few of the benefits you are sure to enjoy:
Never lose track of important updates. Our system will continue to house important messages from the Message Center, but now has added the ability to filter, sort, and search for a specific RMA bulletin, Presidential Update, or underwriting processing change.
Provide phenomenal customer service! Our "My Farmers" section provides crop insurance details including, coverage, unit, and field data, in addition to important dates, claim tracking, financial data, policy maps, and policy documents. You can look in just one place to find the service information you need.
Risk management tools at your fingertips. Access Field Insights™, EASYview Weather, the Precision Farming Dashboard, and more!
Be in-the-know! Always be aware of NAU Country continuing education courses, training exams, and self-help technology training materials in our training feature.
Improve your brand. Don't forget to check out our Advertising Page and NAU Country Store. Take advantage of these resources to advertise your business.
Continual improvements. Our goal is to not become complacent. Even after the first release of the Agent Portal, we will continue to enhance the Supply Order System, Map Book Ordering, Forms, Agent Help Library, and Reports in future releases of the Agent Portal throughout 2020.
Want to know more? If you want to take a peek before the portal fully releases, click on the "Agent Portal Beta" link at the top of your current Agent Portal.

If you would like to be part of our User Acceptance Testing on the portal, we would love your thoughts! Be assured, training and communication will be made available prior to the official release of the new Agent Portal. You can also talk to your Marketing Representative and Underwriter for more details.