NAU Country President and NCIS Chairman Jim Korin stresses the importance of crop insurance in 2020 at the recent NCIS Convention
The National Crop Insurance Services (NCIS) annual Crop Insurance Convention was held in February 2020. Agents, members of NCIS, the American Association of Crop Insurers (AACI), and Approved Insurance Providers (AIPs) of crop insurance attended the week-long event.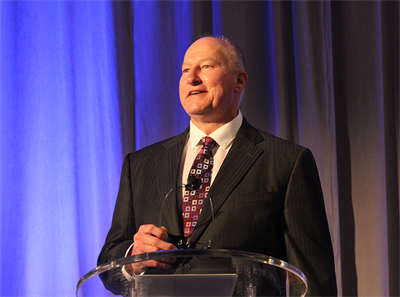 Jim Korin, Chairman of NCIS and President of NAU Country, spoke at the recent NCIS annual convention about the value of crop insurance especially after a difficult 2019. In his opening remarks at the crop insurance industry's annual meeting, Korin credited crop insurance's integral role in the farm safety net for its increasing popularity, "Despite the financial challenges that rural America has faced over the past several years, farmers continue to invest in the reliable crop insurance products we provide," said Korin. Crop insurance policies protected a record 380 million acres of land, or more than 90 percent of planted acres in 2019.
Korin continued, "This is a testament to our industry's record of service as well as the trust farmers place in us to provide assistance with efficiency and integrity when disaster strikes."
As disasters threatened both planting and harvest across the heartland in 2019, the crop insurance industry acted quickly to deliver aid. "Crop insurers have already paid out more than $9 billion in indemnities to help farmers in their time of need. This number is expected to grow as more claims are finalized", said Korin. "Last year, farmers collectively paid $3.75 billion of their own hard-earned money in premiums and shouldered more than $10 billion in deductibles," Korin said.
Korin added, "Through all of these trials, the Federal crop insurance program worked exactly as designed. Agents, adjusters, and insurers acted swiftly to assess damages and deliver relief while serving our customers with compassion."
He also noted that, "Our partners at USDA turned to us and asked for our help in delivering a critical component of disaster aid. We were happy to deliver prevented planting "top-up" payments to ensure the needed aid could reach our customers as quickly and as economically as possible. In total, 19.1 million acres qualified for a top-up payment. The total amount disbursed through the AIPs as of the end of January 2020 was $592 million," Korin stated. Because crop insurance takes the politics out of the process, the private sector quickly delivered payments to farmers in weeks, not months.
The history: The modern crop insurance program got its start with the Crop Insurance Act of 1980. NAU Country founder Jim Deal and other industry pioneers worked alongside Secretary of Agriculture Bob Berglund and Congress to develop an insurance program. Jim Deal expressed many times to Korin that it was then President Jimmy Carter's vision to form a partnership between the Federal government, the private sector insurance industry, and the American Farmer.
"The goal was to provide a safety net for farmers based on sound insurance principles. Congress could then eliminate the more than 100 standing disaster programs that were being funded through various government departments – including a couple in the Department of Defense. By any measure, crop insurance has been a resounding success thanks to the hard work of all members of this great partnership," said Korin.
Korin recognizes the changes in the field (literally and figuratively), "Our industry is preparing for the changing needs of agriculture by investing hundreds of hours and millions of dollars into efforts to improve our products, our delivery infrastructure, and our service. These investments add incredible long-term value to the crop insurance program. NCIS and AIPs work hand-in-hand with our partners at RMA to strengthen the products we offer and make policies available to more farmers in more states and counties across the United States."
"The crop insurance industry protects some of the hardest-working people in this country as they feed the world on a daily basis. This is a responsibility we do not take lightly. And we are all thankful for farmers!" said Korin.
Korin noted the need for changes with the program as well. Concluding his remarks, Jim Korin vowed that the industry will continue its efforts to strengthen crop insurance, saying, "Crop insurance is available to farmers no matter what they grow or where they grow it. We are proud to represent the vast diversity of food, fuel, and fiber production across this country… "We will always work to ensure crop insurance remains affordable, widely available, and economically viable."
Read more at:
https://www.naucountry.com/about-us/news/news-detail/2020/02/25/crop-insurance-protects-rural-america-solidifies-popularity-as-risk-management-tool
Learn more about National Crop Insurance Services (NCIS) at:
https://cropinsuranceinamerica.org/
Learn more about the American Association of Crop Insurers at: https://www.aacinsurers.com/