Take your customer service to the next level with EASYmapping® enhancements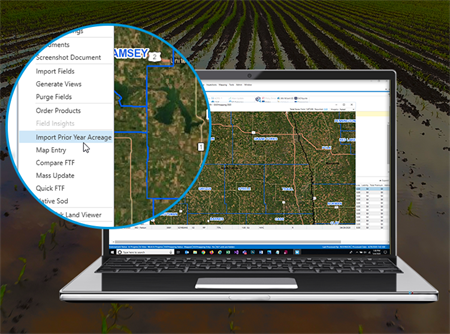 This spring we'll be releasing EASYmapping's Crop Rotation and High Risk Land Viewer. These features will not only save you time, but we're certain they'll give you a competitive advantage.
Acreage Reporting in minutes with Crop Rotation
Utilize our intuitive Crop Rotation functionality in EASYmapping® to speed up your acreage reporting. Does your planting pattern reflect what you did three years ago? In that case, EASYmapping will allow you to select a prior year to emulate. With a push of a button to solidify your rotation, your preliminary acreage report is ready for review and signature. An added benefit, you can utilize eSign in combination with this feature and comply with social distancing guidelines, if needed!
Grow your business with EASYmapping's High Risk Land Viewer
Impress your prospective insureds by quickly providing them accurate information on high risk land for specific fields, crops, and practices with our new High Risk Land Viewer. That's right, this feature does not have to be linked to a policy! The High Risk Land (HRL) Viewer offers the simplicity of zooming into an area on the U.S. map and verifying if the land is in high risk.
In addition, assist your current insureds when contemplating buying new land? Are they concerned about high risk fields? Our High Risk Land Viewer addition in EASYmapping provides the ability to analyze fields ahead of purchase to determine if they fall in high risk. And that's not all, we have increased the speed and efficiency of the system. What a great service to provide!
NAU Country is excited to introduce these enhancements and we're certain they'll be a huge benefit! With such an exciting update coming, we want to make sure you are more than prepared to utilize these features. Therefore, please be assured trainings will be coming soon.