Stewards of change and sustainability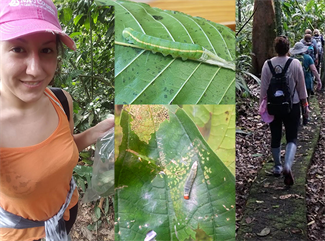 Last fall, NAU Country's Eden Schneider applied for the chance to go on a 10-day expedition in part with our parent company's QBE Foundation and Earthwatch. Earthwatch is an international non-profit organization that works together with professional scientists and citizens on projects and expeditions that benefit the sustainability of the planet. There were several applicants for two separate expeditions, one to Costa Rica, and the other to Maine's Acadia National Park to study climate change. Eden was selected to participate in the "Climate Change and Caterpillars in Costa Rica" expedition in December 2019 that was stationed at the La Selva Biological station in Costa Rica. Eden says that spending a week in the rainforest began with howler monkeys at 5:00 a.m. Daily educational sessions and engaging scientific research in the field were accompanied by a wardrobe of tall rubber boots (to circumvent snake bites) and being watchful to avoid bullet ants. The premise of the research surrounded caterpillars, of all sorts and sizes, and how the weather has impacted their environment and habits. Eden said that each participant in the expedition crawled the landscape and found their caterpillar specimens, which were brought to live in the biological station to be photographed, and then observed and monitored daily. The reason for studying these creatures is so important, as it ties back to agriculture. By monitoring each caterpillar up to pupation, they gained valuable insight on the caterpillar itself. They were also watching for a natural occurrence of parasitoids in action.
"Caterpillars act as a host for parasitoids to lay their eggs. The eggs will continue to grow inside the host, receiving nutrients by consuming the caterpillar until the point of emerging, resulting in the caterpillar's demise." Said Eden. "Due to recent droughts and flooding in Costa Rica there has been a noticeable decline in both species. La Selva, has had an increase in plantations, and as currently being researched, a simultaneous decrease in biodiversity at the biological station. Crop dusting has become more frequent in the area and as a result residue is being found on the leaves within La Selva," she continued. Similar research on parasitoids (often wasps) is important, they help keep the population of caterpillars (often eaters of leaves and produce) in balance on cropland as a biological control agent. Eden noted that several of the participants agreed to place more value on natural sciences every day. The conversations and decisions to make small changes today may leave a larger impact later. Eden said that the expedition's lead scientist noted, "Parasitoids on a caterpillar is life's poetry and we are losing libraries worth."
Read other Stories from Country Times
.