Our team at NAU Country strives to be your Dairy Revenue Protection (DRP) experts! By providing exceptional underwriting knowledge and processing standards, innovative technology, and staying abreast with new Risk Management Agency (RMA) updates we have proven ourselves as an industry DRP leader. By trusting your DRP business with NAU Country, you can be reassured that we will not become complacent. We will continue to improve and service your needs.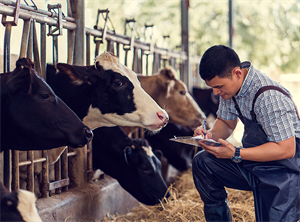 Our designated DRP Underwriting team focuses on service and simplicity. It is our goal to make sure your processing needs, and questions are met in a timely manner. In addition, our processing system allows for early entry of policy data, so when the time comes to lock in on a Quarterly Coverage Endorsement (QCE), it is as simple as selecting the daily price and completing the corresponding paperwork. Our team dedicates time to review your application submissions to assure that any processing errors are detected and corrected early, making your experience as efficient as possible.
We are ready to support your DRP sales needs by offering a surplus of DRP tools for you and your farmer, including an easy-to-use quoting system equipped with a valuable comparison and historical report, an efficient processing system, milk production logs, and daily price alerts! Plus, there is more to come! Check out a few of the features below that our systems have to offer:
DRP Prices and Suspended Sales: Be aware of what is happening in the markets. Our web page and mobile app are always current with the daily DRP prices. Plus, an automated email is sent out to our DRP agents when market sales have been suspended.
DRP Processing system: Enjoy our intuitive workflow and user-friendly screens within EASYwriter Pro®. Create a pre-printed QCE form for signatures, or key in a partial QCE while waiting for your desired price. It makes DRP processing a breeze.
DRP Quoting: Lock sales in with EASYquote®. EASYquote offers the ability to report on various pricing options and quarterly endorsements. In addition, you can pull quoted endorsements into already existing policies.
Product Comparison and Price History: Run product comparisons between pricing options, quarterly coverage endorsements, and coverage levels in EASYquote. Reference historical DRP data to analyze past trends for making future decisions.
Milk Production Log: Track your annual milk production, milk coverage purchased, and remaining pounds of milk to be insured. Available to both you and your farmers.
Dairy Price Alerts: Imagine the time you'll save and the customer service you can provide by getting a quick update on your phone or iPad when a DRP price meets or exceeds your desired price. NAU Country now offers DRP Price Alerts via email or push notifications for you and your farmers.
Mobile QCE Wizard: Fill in your QCE form and gather signatures all from your mobile device. Coming soon!
We know it is important to stay up-to-date on industry changes! RMA bulletins will be communicated to you, as we receive details. We will continue to keep our underwriting processes and technology current as new updates are announced. Thank you for allowing us to serve your DRP needs!
Download the story as a PDF | Read other Stories from Country Times