Our new Agent Portal, coming in late 2020, can be explored today! We encourage you to check out the new Agent Portal that will showcase a modern look and feel, that is simplistic and easy-to-use. The new web-based system offers a robust engine, sleek user interface, and strategic business management tools that will help you daily.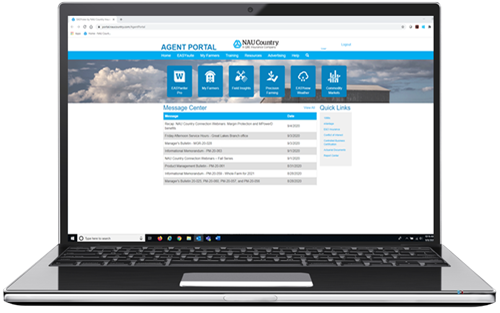 You have the opportunity to work in the new Agent Portal beta version that is available now before its official release. The Agent Portal beta is a live "trial" version of the new Agent Portal. It is important to remember that some features have not fully transferred over from the current Agent Portal and that is why the current portal is still available.
Whether you want to access your EASYsuite systems, manage policy details, or sign-up for continuing education courses, the new Agent Portal has it all. Here are just a few of the benefits you are sure to enjoy:
Never lose track of important updates. Our system will continue to house important messages from the Message Center, but now has the ability to filter, sort, and search for a specific RMA bulletin, Presidential Update, or underwriting processing change.
Provide phenomenal customer service! The "My Farmers" section provides crop insurance details including, coverage, unit, and field data, in addition to important dates, claim tracking, financial data, policy maps, and policy documents. Now you can look in just one place to find the service information you need.
Risk management tools at your fingertips. Access Field Insights™, EASYview Weather, the Precision Farming Dashboard, and all our new Commodity Markets information at a click of a button!
Be in-the-know! Always be aware of NAU Country continuing education courses, training exams, and self-help technology training materials within the Training area. This includes our newly redesigned Agent Help Library!
Improve your brand. Don't forget to check out our Advertising Page, NAU Country Store, and the improved Supply Order System (SOS). Take advantage of these resources to advertise your business.
Continual improvements. Even after the initial release of the Agent Portal beta, we have continued to release enhancements to the Supply Order System (SOS), the Forms Library, the Agent Help Library, and coming soon a brand new Map Book Ordering system!
Check it out today by clicking on the "Agent Portal Beta" link found at the top of the current Agent Portal.

Want to know more? The new Agent Portal will be the topic covered in our NAU Country Connection training webinar on Wednesday, October 14, 2020. To learn how to register and find out additional details, please see our news piece on the Fall NAU Country Connection Webinar Series.
Be assured, additional training resources and communications will be made available prior to the official release of the new Agent Portal. You can also talk to your Marketing Representative and Underwriter for more details.