Looking for a Holiday Gift for your Insureds?
We have the perfect solution with NAU Country's Cyber Monday sale! Our Cyber Monday sale offers ½ price Wall Maps! What a great personalized gift to surprise your insureds with this year.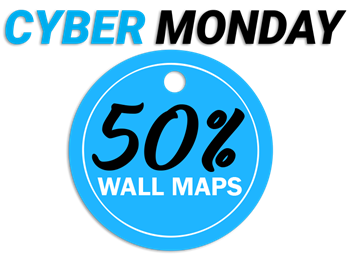 Cyber Monday Details
Cyber Monday begins on Monday, November 30, 2020, from 12:01 a.m. CST through 11:59 p.m. Your orders need to be placed during this timeframe to receive the discount. Discount prices are as follows:
36"x42" Laminated Wall Map from $40.00 to $20.00
36"x42" Non-Laminated Wall Map from $30.00 to $15.00
24"x36" Laminated Wall Map from $37.50 to $18.50
24"x36" Non-Laminated Wall Map from $28.00 to $14.00
Order through our Maps and Supply Ordering system on the Agent Portal. Or access the Wall Map and Map Book Ordering Tips and Tricks for further assistance on navigating the system.
Exceptions to the Cyber Monday sale:
Mini Wall Maps will not be included in the sale. Also, special requests such as customized maps, combining policies, and color-coding of views are also not included. No PDF previews will be sent. Only one (1) wall map per policy is eligible for the discount.