Join our Spring 2021 NAU Country Connection training webinars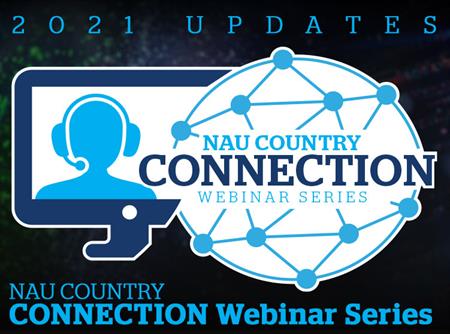 Refresh your product and system knowledge this spring with the NAU Country Connection Webinar Series. Back by popular demand, this series focuses on Production and Acreage Reporting systems, Crop-Hail and EASYmapping® features, and our weather metrics tools. For some, these courses will serve as refreshers for the time of year, and for others, it may be completely new material. We customize our training to assist both types of users.
At NAU Country providing top-notch customer service is key. It is our goal to provide safety, security, and efficiency to you at all times. Safety in knowing that our support for you and your farmers will not waver, security in providing systems and solutions to keep your personal information safe, and creating efficiencies in your day-to-day processes and systems.
Join VP of IT Marketing Hope Floberg, IT Marketing and Training Specialists Ali Skalsky and Katie LaMere, Technology Field Services Tim Manthey and Lester White, Lead Hail Services Specialist Holly Christianson, and Senior Operations Underwriting Specialist Jenna Atkinson while they discuss the topics below. Don't worry if you miss a training, we will send an email each week recapping the items discussed, along with the recording link and user documentation.
All training will be held on Wednesdays at 10:30 a.m. CT. Review the dates of each session below and sign up today!
Wednesday, April 7: Production Reporting to fit your needs
Wednesday, April 14: EASYmapping® Refresher
Wednesday, April 21: Planting and Acreage Reporting with Precision Farming
Wednesday, April 28: Acreage Reporting to fit your needs, plus SMARTsign
Wednesday, May 5: Crop-Hail Applications and Quoting
Wednesday, May 12: EASYview Weather and Hail Notifications
Wednesday, May 19: Claims Submissions, Notifications, and Tracking
Wednesday, May 26: Farmer Focus: NAU Country mobile and Farmer Portal
Wednesday, June 2: Field level data at your fingertips with Field Insights®
You MUST sign up to attend in one of two ways:
If you are an appointed agent with NAU Country Insurance Company, please go to www.naucountry.com, log in to the Agent Portal, select the Training menu option and choose IT Product Training to register online.
Or utilize our direct link: IT Product Training.
Also, if you are not appointed and would like assistance, please contact IT Marketing by email at itmarketing@naucountry.com. You can also direct your questions to your Marketing Representative.
Review and watch our NAU County Connection series from 2020, which is stocked full of information! Click here for the 2020 playlist.
We look forward to having you attend.
Thank you,
NAU Country Insurance Company