NAU Country keeps your accounts secure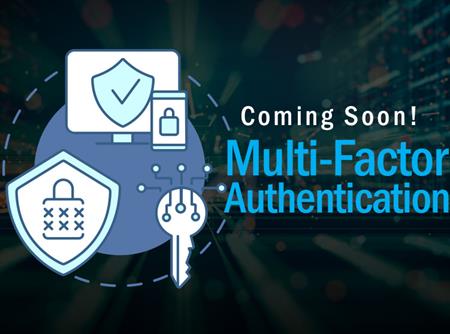 NAU Country prides itself on our thorough customer service. We make sure we can support our agents and farmers at all times. This includes cyber security of our EASYwriter Pro®, Agent Portal, EASYquote®, NAU Country mobile, and Farmer Portal accounts. In a world of increasing reliance on technology, comes security risks. "Hacking" is becoming a common word in the news, and many, if not all companies are making Multi-Factor Authentication (MFA) part of their user's experience. You may have noticed that you need to verify your identity twice with your online banking log in, or your email. NAU Country is well equipped to ensure IT Security for you and your policyholders, and your privacy will be protected.
We'll be implementing security measures in the form of Multi-Factor Authentication at log in for our Agents this summer and then eventually for our Farmer Portal closer to fall.
What is Multi-Factor Authentication (MFA)?
Multi-Factor Authentication provides users an extra layer of security to ensure that the person that is supposed to have access to your data is who they say they are. MFA requires a user to have a secondary action to prove their identity when they log in.
Example: To log into your phone you may have a fingerprint, and a passcode that you need to type in. These two factors ensure that the user who needs to have access, is who they say they are.
What will you need to do?
When prompted, you will need to set a secondary way for the system to verify it's you. In addition to the password you already created to log in, you will need to enroll in at least one (1) additional authentication factor:
*It is recommended to set up two (2) authentication factors.
SMS Authentication - This is a text message to your mobile device. SMS (Short Message System) authentication may send you a text message with a single code that you will need to enter.
Email Authentication - An email may be sent to you to verify your identity. You may be asked to click a button to approve, etc.
Okta Verify - This is a mobile application that NAU Country is using to help send messages to your mobile device. You may download the Okta Verify mobile app to your phone. The app will then send a one-time code to your phone through the app when you are trying to log into one of NAU Country's portals to prove your identity.
Voice Call Authentication - A phone call will be sent to the number entered to verify with a single use code.
What to expect
We will be sending an announcement to Agents with instructions on how to set up MFA when accessing our applications. Once MFA has been set up the first time by you, when you log in to our systems, you will be challenged with the authentication factor that you have set up. You may also select to not be challenged with MFA for 90 days upon subsequent log in.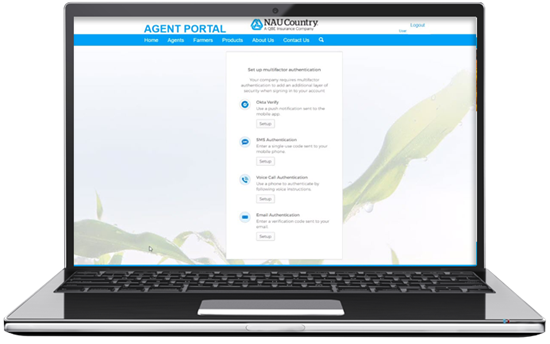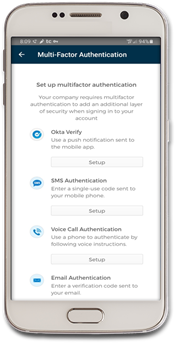 FAQ
How can I log into the Agent Portal?
Navigate to NAU Country's home page, and click on the "Agent Portal" log in button. OR, log into the Agent Portal HERE.
I don't think I have a Farmer Portal Account / How can my farmer sign up for one?
Head to NAU Country's home page, click on the "Farmer Portal" log in button on the main page. Log in there, OR if you/they do not have an account, they may register for one at any time.

Log into the Farmer Portal HERE.
I don't know my password, how do I find out?
For password assistance, or to change, edit, or add additional MFA options, please contact the NAU Country Call Center support team by phone at 1.866.942.6724 or by email at callcenter@naucountry.com.
How can I register myself as an Agent for the Agent Portal, or have my Farmer register for a Farmer Portal Account?
Register for either an Agent or Farmer Account HERE.