Communication is key in crop insurance
In the wake of the Midwest derecho in 2020, the ongoing pandemic, and extreme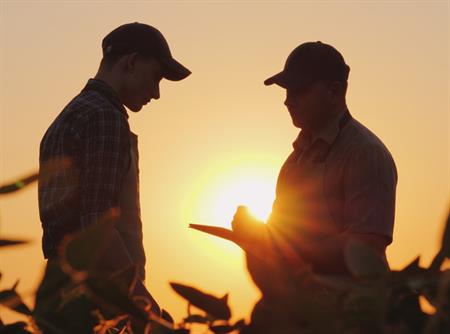 weather events, listening to our customers is of the utmost importance. Our claims adjusters are trained and intuitive to the needs of our farmers. Recognizing mental stress and lending an empathetic ear, as well as clear communication on claims processes, has become a beacon for many farmers. Insurance Business America spoke with NAU Country's Dale Feilmeier and Andy Brallier about how our claims teams are focusing on empathy and communication to help provide the best customer service for our farmers.
Original Publish Date: August 10, 2021 | Helping the American Farmer, Insurance Business America - by Mallory Hendry
On August 10, 2020, farmers across the Midwest woke up to find their corn flat, bins blown away, electricity off and trees down. In a year that threw a combination of serious obstacles at them - a global pandemic, low commodity prices, a drought and finally the derecho - "they were really beaten down," said Dale Feilmeier, claims manager at NAU Country Insurance Company - a part of QBE.
"We did a lot of listening, because many of them just want to talk," Feilmeier said. "They were trying to figure out what to do, and the biggest thing was letting them know we were working for them and with them as a partnership - but trying to get them to buy into that was difficult at times."
Mental and behavioral health is a long-standing concern for farming communities, but in 2020 it became more important than ever to check on their well-being. Adjusters had faced many of these challenges before - though 2020 was extreme by any measure. By combining that experience with the training they received at their annual conference, NAU's adjusters were prepared to recognize subtle signs of distress while working through claims.
Then the derecho got a lot of political attention, which became an additional challenge for Feilmeier and his team. The Governor's Task Force was reporting acres and acres of crops across Iowa were destroyed, but as crop claims adjusters know, destroyed and damaged are two different things.
"Once we started clarifying the political messaging, it put everyone in a very difficult situation," Feilmeier said. "The farmers were hearing that these crops were destroyed, so in their minds they should receive zero production, we should let them destroy the crop and pay 100% when that wasn't the case in many of the fields."
The policies that all Approved Insurance Providers such as NAU Country have to follow say that if the insured has production in their field, they harvest it, or the claims adjusters do an appraisal on it to put against their guarantee. "That's where we had to start from - it was a big hurdle," Feilmeier said.
Andy Brallier, NAU Country claims specialist, said the industry started off with a common message: "We are there to help. Then, we need to follow procedure and the language that was built into the policies to achieve an outcome that would be within our policy and satisfactory for our customers." But there are so many variables to take into account once you actually get into the fields, such as variety, grow direction, topography of the land and maturity of the crop, and now Brallier also faced the misinformation that was swirling around about whether or not the crops were harvestable using normal harvesting practices.
"Part of the job is to know when your customers are struggling and to ensure we are communicating clearly through every step," said Brallier.
Most of the NAU Country's people either grew up on a farm or farm themselves, so they had empathy towards the farmer and understood the gravity of the situation. Brallier had to listen and talk it through with his insureds.
"We focused on fulfilling our duties to our insureds in a timely manner and letting them know we're on their side," Brallier said, adding NAU Country believes face-to-face conversation is always best, and by following COVID protocols and continuing to meet outdoors that was something the adjusters were able to safely continue.
"I asked many of our insureds to give me a bit of time, let's see how this crop progresses," he said. "It's either going to deteriorate, stay the same or get better - but it was too early to tell initially."
Many of his insureds agreed to wait, and when it was time to harvest Brallier hopped in the combine with them and went a couple rounds that was representative of the field. Whatever that production was, they could apply it across all their acres or continue to combine.
"Nine times out of 10, the insured was surprised at how much they were getting and glad we waited long enough to determine an accurate production number - and they actually benefitted by having higher commodity prices in the fall," Brallier said. "They harvested a lot more bushels than they thought and ended up with marketable grain at a higher price than they'd had in almost a year and a half. That was how it all shook out in the end."
Being there in person, ready to listen and offer a solution was critical in getting their insureds to what was essentially a happy ending for many, and Feilmeier said he's proud of his team.
"We put the customer first and helped them understand the process," Feilmeier said. "Many of the farmers ultimately thanked us for following procedure and explaining the wording of the policy."
At a time of intense vulnerability, due to the relationship crop claims adjusters have with their insureds they were able to help with more than just damage to crops. Their training allowed them to identify warning signs of mental distress, such as changes in body language or speaking patterns, or even the sudden run-down appearance of a farm. In the midst of great confusion, adjusters offered a steady presence and set procedure that ultimately helped turn things around for many of the farmers.
"The insureds were hearing different things depending on the day, and our consistent presence and messaging was a beacon for them," Brallier said. "I think they appreciated it."
Source: https://www.insurancebusinessmag.com/us/news/breaking-news/helping-the-american-farmer-301814.aspx