NAU Country weighs in on continued drought conditions out west
NAU Country's John Wienstroer (SVP Western Branch Operations) and Mark Masters (SVP Northwest Branch Operations) connected with Risk & Insurance earlier this month, discussing how crops and farmers have been continuously impacted by unpredictable climate and weather patterns, including drought conditions, and how it's affecting all involved going forward.
Original Publish Date: November 9, 2021 | When the dry spell doesn't end: What are farmers and insurers next moves in the face of a megadrought? | RiskandInsurance.com | by Courtney DuChene
Farmers across the U.S. are grappling with how this year's droughts will affect their crop yields.
August of 2021 saw the 6th highest global surface temperatures ever-recorded, the National Oceanic and Atmospheric Administration (NOAA) reports. According to the U.S. Drought Monitor, over 46% of the U.S. experienced moderate to exceptional drought in August.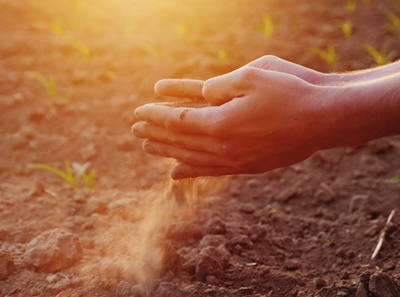 "When the spring crops were in their flowering stages, they got baked from the excess heat," said Mark Masters, senior vice president for the Northwest branch of the crop insurer NAU Country, a QBE Company. The current conditions are poles apart from what farmers and their insurers were seeing even as recently as two years ago.
Masters and his colleague, John Wienstroer, senior vice president of branch operations for the Western branch of NAU Country, recalled watching excess moisture cause California's Oroville Dam to flood in 2019. Now, Lake Oroville — the state's second largest reservoir — has seen its water level fall to the lowest ever recorded.
"The biggest challenge I see our growers facing here is predictability — being able to plan for the next year, not knowing what water you will have," Wienstroer said. "They might have to buy water at high prices to irrigate those crops."
Prolonged droughts may be the reality for farmers in the West and the Midwest as global climate change continues to push the globe to more extreme temperatures. Insurers, agricultural risk managers and individual growers are all responding to these trends with new insurance products, risk mitigation techniques and an emphasis on sustainable farming.
Drought and This Year's Crops
Though it's still unclear how large this year's losses will be, this year's droughts will undoubtedly result in massive losses for farmers.
"You're seeing reduced yield or farmers who change crops or fallowed land because of the lack of water to begin with," said Tami Griffin, national practice leader for the food, agribusiness and beverage industry practice at Aon.
Beyond crop losses for growers, droughts affect livestock by reducing the field space where they're able to graze, potentially leading to more losses. Prices of animal feed may also go up as corn and soybean crops are affected by the drought.
"The livestock was impacted quite a bit," said Gina Ekstam, managing director, agribusiness vertical leader at Assured Partners. "We've seen reduction of herd sizes," Griffin added.
All of this comes during a year when the pandemic drove up the costs of fertilizer. Corn fertilizer prices have surged, cutting into farmer's profits by nearly a quarter since the crop will be more expensive to grow, Bloomberg reports. These shifts are primarily caused by rising natural gas prices since nitrogen is one of the main ingredients in many fertilizers.
The Crop Insurance Market
These losses will likely put strain on insurers, with some considering exiting in the market entirely. Most growers purchase insurance through the federal crop insurance program. Under this program, the U.S. Department of Agriculture sets premium rates and private companies sell and service policies. Additionally, the program subsidizes crop insurance costs, so that farmers pay about 40% of total premiums while the government pays the other 60%. These multi-peril policies cover farmers in the event of natural events that result in lower yields. Qualifying events include droughts, floods, insect damage, fire and disease among other things.
"The vast majority [of farmers] take advantage of federal crop insurance," Griffin said.
For private companies that sell policies through the federal crop insurance program, this year's drought will likely put stress on their claims teams, who are facing an onslaught of lower yield and prevented planting claims.
"It's putting a bigger burden on our claims staff to be able to work through these anomaly years where we have excessive drought," Wienstroer said.
Added to these challenges is an increased interest from farmers in purchasing multi-peril crop insurance policies during tough years. The federal crop insurance program is already immensely popular, with more than 90% of farmers who buy crop insurance opting for multi-peril policies through the federal crop insurance program, per the Insurance Information Institute. Wienstroer estimates that this year that number will increase.
"People buy up coverage when we're in a drought trend because they see the importance of having better coverage from a year to year basis," he said.
Other farmers will elect not to plant at all, relying on prevented planting benefits to make up for a loss in income.
"Right now, many of the reservoirs in the U.S. west are at historic lows, so without an above average snowpack this winter, we could see reductions in planting in that region," said Dan Bird, senior vice president and national sales manager at Rain and Hail, a Chubb company. "Some of that acreage will be eligible for prevented planting benefits under the crop insurance policy and some will not. It's important that growers understand their coverage in advance of planting decisions."
Costly Climate Crises May Be Becoming Uninsurable
In addition to the multi-peril cover offered through the federal crop insurance program, farmers can purchase crop-hail policies, crop revenue policies and parametric insurance policies to protect their profits.
"There's plenty of products for [farmers] to purchase," Ekstam said.
These policies can provide additional protection for farmers or they may offer protection from risks not covered by multi-peril crop insurance covers. But in the face of such high losses, private companies selling companion and parametric policies to farmers may consider exiting the market entirely.
"The conclusion … here is that rather than experiencing [this drought] as one event, we're experiencing a trend and a change in the water supply," said Stephane Godier, regional head of the Americas at AXA XL Climate. "A risk must be future possible, and eventual, but if it's certain it's not insurable anymore."
Part of the reason Godier and others believe drought losses and other weather-related agricultural related perils are becoming uninsurable is that climate events are no longer disasters or risks. They're our new normal.
"We invented the word 'megadrought' and now we are even wondering, as some scientists dive in, if the word drought is meaningful, or adapted for the circumstance, as long it implies that water supply will come back, or the drought will end," Godier said.
NOAA's drought outlook predicts that this current drought period will persist into 2022, with a drier than average winter in many parts of the U.S. The drought will likely hit hardest in California and the Northern Plains. Moreover, climate scientists note that soil is being lost between 10 to 100 times faster than it is being formed and a half-billion people currently live on land that is turning to desert.
"I don't know if there's really a normal anymore," Wienstroer said.
Sustainable Farming is the Future
As farmers adapt to these shifting weather conditions, agricultural practices will have to be adapted.
"The answer may not be insurance, but rather, adaptation," Godier said. "Farmers and ranchers across the U.S. are excellent stewards of the soil," Bird added. "Together, we are adapting as we learn about new sustainable practices and technology."
One solution many growers are turning to is using drip, rather than pivot irrigation systems. Drip irrigation systems focus on watering plants closer to the soil, reducing water evaporation and getting more moisture to a plant's roots.
"With reservoir water reserves stretched in parts of the country, growers continue to shift to sustainable irrigation practices that are more efficient, including moving away from flood irrigation to resourceful drip irrigation systems," Bird said.
Mitigation efforts are somewhat uneven at the moment. California's farmers have more experience managing drought than those in the Midwest, though Bird believes the Midwesterners are catching up quickly. In these areas, farmers are adopting no till, or minimal till policies, which conserve water by leaving the previous year's crop in place, creating a protective cover that moderates soil temperature, reduces evaporation and prevents water runoff. They're also planting drought-resistant hybrid versions of traditional crops.
"In the Midwest, today's growers are much more aware of the need for water conservation than they were 10 years ago," Bird said. "Many corn growers have moved to drought resistant hybrids, which are much more expensive, but much better suited to produce good yields in dry conditions."
In some areas, governments are experimenting with paying farmers to leave their fields fallow, or unplanted, in an effort to preserve water. California, for example, has seen the federal Bureau of Reclamation, the Metropolitan Water District of Southern California and other water agencies in Arizona and Nevada pay farmers to leave their fields unplanted in the hopes of raising water levels in Lake Mead three feet over the next three years, the Los Angeles Times reports.
These types of programs could help farmers make up for lost income in years when they can't grow. As it stands it's more profitable for farmers to grow and sell their crops than it is to rely on prevented planting policies to pick up losses.
"[Farmers] would love to have water to plant crops every year and the challenge is they don't have the water to plant their row crops, and then they have to fallow those acres and they just don't produce the same amount of income that they would if they were planting and harvesting those crops," Wienstroer said.
Source URL: https://riskandinsurance.com/when-the-dry-spell-doesnt-end-what-are-farmers-and-insurers-next-moves-in-the-face-of-a-megadrought/