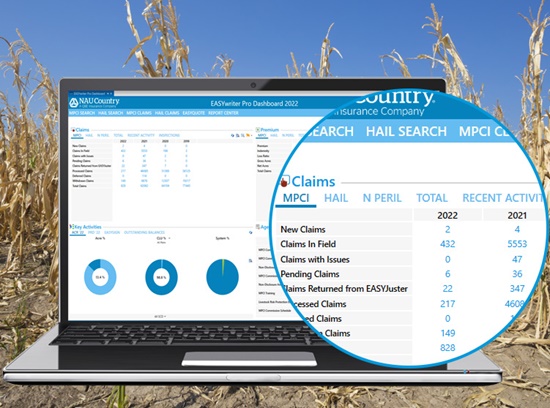 Offer exceptional customer service to your policyholders by utilizing NAU Country's Claim Tracking tools. Do you want to be the first to update your policyholders when an indemnity check is on the way, follow up with them when an adjuster contact log has been created, and always be aware of their claim status when they call? If so, take advantage of the various Claim Tracking tools and resources below:
Revenue Loss Estimator

Forecast possible loss estimates with the Revenue Loss Estimator, Price Tracking and Indemnity, and the Loss Trigger Yield features. Find out more in our Loss Estimators Tips and Tricks.

Direct Deposit of Indemnity

Don't wait for the mail! Optimize the speed of your claim payments with Direct Deposit of Indemnity. Sign up today!

Dashboard: Recent Activity Report

The Recent Activity tab in the EASYwriter Pro® Dashboard, Claims Quadrant, shows policies/claims that have had claim activity in the last three (3) days. Click on the tab to see the Loss Year, Insured, Line of Business (LOB), Claim Number, Date of Activity, and more. It is a great way to keep a pulse on claims' changes. Double-click on a claim line to dive into the claim details.
What does Recent Activity mean? Great question! Recent Activity means any time a claim changes status in our system. Examples include when a claim is assigned to an adjuster, being worked in the field, or processed.
Access our Dashboard User Guide within the Agent Portal for more information.

Report Center: Recent Activity Report

A Recent Claims Activity report is available in the Report Center and offers greater visibility into claim status changes. This report will show claims in the last three (3) active review years that have moved to a different claim (folder) status or had a disbursement within a selected timeframe.

Log into EASYwriter Pro.
Select the "Report Center".
Click "Agencies".
Choose "Claims" from the sub-menu.
Select "Recent Claims Activity".
In the Report Parameters, fill in your Date Range, Agency Code, and whether or not to include sub agencies in the listing.
Select "OK".

This report allows the ability to export to an excel file for further review, sorting, and filtering.

Claims Manager, NAU Country mobile Claim Tracking, and Agent Portal Claim Tracking windows offer claim status tracking.
NAU Country's Claim Notifications

Always be aware! The NAU Country Mobile Claim Notifications keep you up-to-date with push notifications when a claim's indemnity is paid, an adjuster contact log has been updated, and when a new Notice of Loss has been submitted. Find out how to sign up!

Daily NAU Country Claims Activity Report Email

This daily email (sent when applicable) provides detail on claims with a recent financial activity change, claim activity in the field, and any new contact log entered from the adjuster. It helps keep you aware of changes of policyholder's loss information. This report can be utilized as a great customer service tool allowing you to keep policyholders up-to-date on claim payments, claim status changes, and contact touchpoints.
More details on the NAU Country Claims Activity Report Email are listed in the Claims Manager Tracking Tips and Tricks!

Claims Training Suite

The Claims Training Suite is a great resource to locate all system functionality relating to claims. Check it out!
As always, if you have any questions along the way, reach out to your NAU Country Marketing Representative. By partnering together, we hope to provide excellent claim service to your insured.