NAU Country Connection Webinar - 2024 Margin Protection Expansion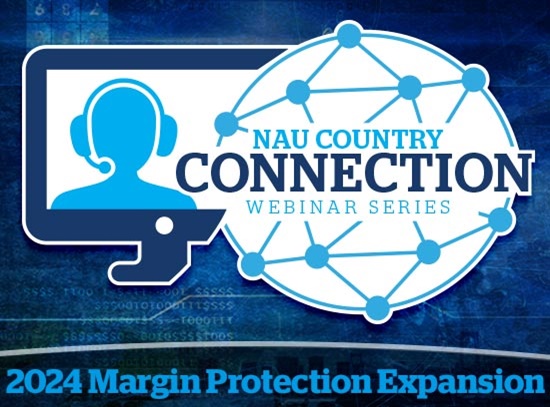 At NAU Country, providing top-notch customer service is key. Keeping you informed on the latest industry updates is an area we take pride in providing. The U.S. Department of Agriculture (USDA) announced that they are expanding its Margin Protection (MP) insurance plan, adding more than a thousand counties to the insurance option that provides coverage against an unexpected decrease in operating margin for corn and soybean producers. This expansion, which is in direct response to growing interest among producers, will be available by June 30, 2023. Interested producers will need to purchase their coverage by Sept. 30, 2023, to be eligible for the 2024 crop year.
Join Rich Morrison, on Wednesday, May 3, 2023, at 9:30 a.m. CDT for an NAU Country Connection Webinar on the 2024 Margin Protection Expansion. During the webinar, we will cover the plan details, the benefits, and where it makes sense. Most importantly, you will be knowledgeable to speak on behalf of the plan and expansion.
Sign up today on our IT Product Training webpage.
You MUST sign up to attend in one of two ways:
If you are an appointed agent with NAU Country Insurance Company, please go to www.naucountry.com, log into the Agent Portal, hover over the Training tab, and select the IT Product Training option to register online.
Or utilize our direct link: IT Product Training.
Also, if you are not appointed and would like assistance, please contact IT Marketing by email at itmarketing@naucountry.com. You can also direct your questions to your Marketing Representative.
Click here for previous NAU Country Connection Webinars.
UPDATE: Resources and References
We look forward to having you attend.
Thank you,
NAU Country Insurance Company