Paperless Billing Statement Enrollment is now Available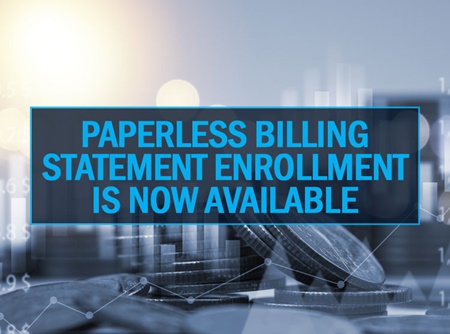 NAU Country offers a convenient and clutter-free solution with Paperless Billing Statements. Paperless billing eliminates extra paper mail, while also helping the environment, and did we mention it cuts back on the clutter? By going paperless, your farmers will receive a billing notification via email, and can access their statement by utilizing our free online Farmer Portal.
If your policyholder is not signed up for Paperless Billing, they will receive the standard mailed billing statement. A brochure with details about Paperless Billing will be included with this statement. Instructions are included on how to sign up and enroll. NOW is the time to talk to your policyholders on how to sign up for a Farmer Portal account and our Paperless Billing option!
How does Paperless Billing work?
Once Billing Statements are generated, your farmer will be sent an email notification letting them know that a billing statement is available for viewing on the Farmer Portal. The Farmer Portal opening page displays your current amount due, along with a link to view their detailed Billing Statement. That's not all! They can view their statement and pay their bill, all in one location! Take advantage of the simplicity and convenience!
How to enroll?
Navigate to https://www.naucountry.com/.
They'll need to sign up for a Farmer Account, if they do not have one already.
Log into the Farmer Portal.
Select the Help menu option, then choose "Account Preferences".
In the My Farm section*, select the applicable Farm from the dropdown option.
Navigate to the Paperless Billing section and click "Enroll in Paperless Billing".
When the Paperless Billing Enrollment window opens:

Navigate to the Sign up for Paperless Billing section.

Click the radio button next to "Enroll in Paperless Billing".

By selecting this option, they will no longer receive Monthly Billing Statements via mail. We will use the Paperless Billing Email(s) to notify then when bills can be viewed through the Farmer Portal.

Set up Email(s) to Receive Notice.

This section allows your farmer to set up the individuals that will receive a notification when a Billing Statement is available.
Important: The email notification does not include the Billing Statement. It provides a link to the Farmer Portal. The farmer must have a Farmer Account to access the statement. Therefore, if your farmer adds additional email addresses to receive notification, they must have a Farmer Account to see the statement.

Accept Terms and Conditions in the Required Statements section.

Click on each of the Required Statement links to review.
Check the "I have read and accept the above terms." box.

Electronic Signature.

They will enter in their Full Legal Name in the Electronic Signature section.
Check the "I authorize that I am signing..." box.

Click "Submit".

They will receive an email notification confirming their Paperless Billing Statement Enrollment.
* If they are linked to multiple Farm Accounts, the Paperless Billing Statement Enrollment will need to be setup or removed individually for each Farm Account.
What does the Billing Statement notification email include?
When a Billing Statement has been generated, they will receive an email from nau-billing@naucountry.com titled, "New NAU Country Billing Statement Now Available". The email provides a link to access the Farmer Portal for viewing. *Note: The Billing Statement is not included in the email notification.
How can they pay their bill?
There are five options available for payment. Three of these options are available in the Billing Summary window mentioned above.
Enroll = They can conveniently pay their monthly statement or set up future payments in our Online Pay system.
One-Time Payment = They can submit a payment for the current billing statement online.
Pay by Mail = They can print their recent statement, and send their remittance slip, along with payment to the address provided in the Print by Mail popup window.
Pay by Phone with Checking or Savings account = They can utilize our Interactive Voice Response (IVR) feature to pay their bill via phone by calling 1.866.350.7603. The system will guide them through the steps for a successful payment from their checking or savings account.
Pay by Phone with Check = They can call us and speak to an NAU Country Accounting Department Representative by dialing 1.763.486.1711 or Toll Free at 1.800.942.6557 ext. 1711 during business hours. We can process a check over the phone.
Is it secure?
Yes! It is our goal to keep our systems and solutions secure. Our Farmer Portal requires login credentials and is secured with Multi-Factor Authentication (MFA). Both of features assist in keeping your personal information safe.
Resources