We may not be able to control the weather, or commodity prices, but we can promise to equip you with the right tools at the right time.
Farmer Portal policy management
We work closely with your independent agent to offer you comprehensive policy management tools and access to weather metrics through our Farmer Portal. This robust web based tool provides access to your policy billing details, 1099 statements, indemnity payments, important dates, and so much more. Utilize our direct deposit enrollment to receive faster loss payments, view policy coverage information down to the unit and yield, track your losses, access your important crop insurance documents, and sign up for important price and weather notifications today!
Online bill pay is available!
Our Farmer Portal allows payment of MPCI, Crop-Hail, Named Peril, and Livestock premiums. You have the ability to enroll in future payments, or do a one-time payment. Either way, you can be confident that your premium is paid without having to search for your bill, buy stamps, or worry about post office delays! In addition, you can enroll in Paperless Billing Statements. Cut the clutter and enjoy the convenience of accessing your statement online!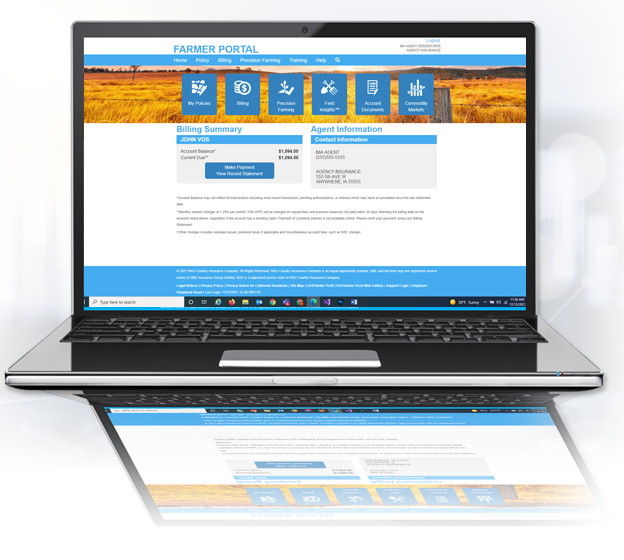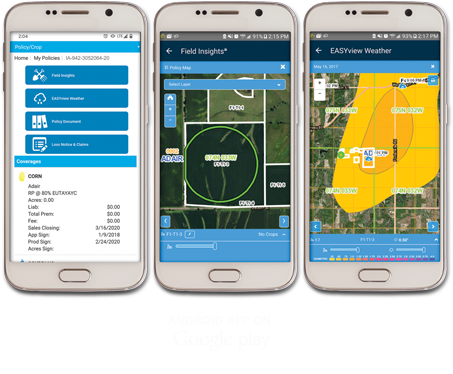 Did we mention that we are mobile?
As a farmer, you can manage your policy on the go! Download the NAU Country mobile app today and you will enjoy the following features:
Understand crop health conditions with Field Insights®
Stay informed of hail events with EASYview Weather
View coverage, important dates, and insurance specifics
Email or call your agent from the app
Submit a notice of loss
Track the status of submitted claims
Forecast possible loss estimates
Stay up-to-date on financial policy data
Access premiums due and indemnities paid
View billing statements
View mapped fields
Sign up for Hail Notifications Frost Alerts, or Dairy Price Alerts
Download NAU Country mobile for Android

Download NAU Country mobile for iOS

One account for two services!
You only need one account to login to both our Farmer Portal and NAU Country mobile app. To access the NAU Country mobile app or Farmer Portal, you'll need to register with your policy number, policy type (MPCI, Hail, Named Peril, or DRP Livestock), tax ID, and an email address. Our system will guide you through the steps, however, should you have questions - we're here to help!