Our crop management platforms are designed to assist you in understanding crop health conditions at a field level. They help reduce loss risk and allow you to be more productive in the field by utilizing current, future, and historical weather data, growth models, soil data, and spray and harvest advising. In addition, EASYview Weather helps you to verify and locate the proximity of hail events in your fields! For more details on Field Insights and EASYview Weather, read more below.
Field Insights® offers field level data, any time, any place!
There will never be a substitute for a hard day's work in the field. However, at NAU Country Insurance Company, we just made it a little easier! Field Insights gives you the advantage of assessing what is happening on your farming operation, at a field level.
What is Field Insights?
Field Insights is a crop management platform designed to provide you access to the most relevant crop environment conditions for better risk management. It helps you quickly understand crop health conditions at a field level. These tools help reduce loss risk and allow you to be more productive using field level data like current, future, and historical weather data.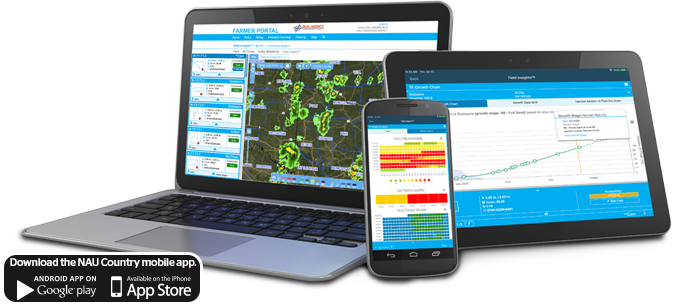 Features:
Radar:




See what has happened in the past 24 hours, as well as what the estimated forecast looks like for the next 24 hours.

Soil Data:




Review soil information from eighteen individual map overlays to soil composition graph data. Review the types of soil within a field to help scout out new farmland, or gain insight on planting in the future. Map layer options include Soil Map Units, soil moisture and temperatures, available water storage, drainage class, hydric class, erodibility factors, farmland class, hydrologic group, crop production, frost free period, albedo, erosion class, loss tolerance factor, flooding frequency, actual evapotranspiration, palmer drought index, and wetland displays. All available to help you manage risk in the field.

Growth Models and Growing Degree Days:




Field Insights can assist with estimated harvest and spraying dates based on weather data, field information, and planting dates.

Harvest Advisor:




Harvest Advisor looks at the optimum harvest moisture for supported crops along with the user's target moisture. It then projects the ideal time to harvest.

Spray Advisor:




Spray Advisor provides information to help minimize spray risks and liability, while ensuring product efficacy and crop safety. You set the ideal spray conditions for your field, and the advisor will identify the most ideal spray application window based on environmental conditions.

Acreage Reporting:




Pre-populate your acreage reports with data captured through Field Insights. Additionally, after the planting season, push your acreage report data back into Field Insights.

Frost Alerts:




Provides location specific environmental intelligence to help you plan for preventative actions when frost is in the forecast. Frost alerting capabilities are part of our focus on sustainable farming.
"When using Field Insights, we found the accuracy of the weather to be very acceptable when deciding on spraying opportunities. It allows us to manage our time more efficiently, because we can determine which field to spray next from our office or our phone. After setting parameters for the system to understand our expectations, it is very accurate."
~ Missouri farmer with Crop Insurance Solutions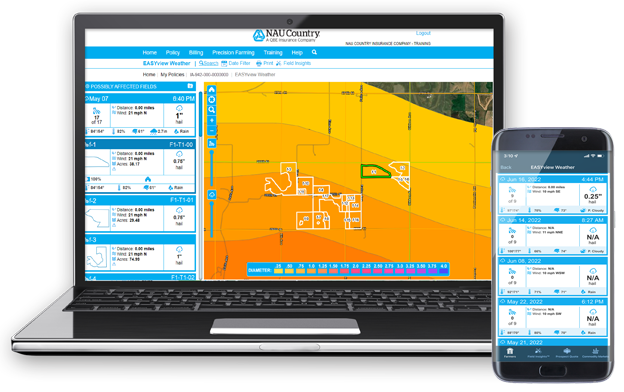 Be aware of hail damage to your fields with Hail Notifications and EASYview Weather!
Worried if hail damaged your fields from yesterday's storm? Check on your fields while drinking your morning coffee!
Our Hail Notifications send out an email notification if the probability of hail greater than .5" is detected within a buffered radius of one mile around each field or section that exists on your policy. The email will contain your policy number, county and crops potentially affected, and will provide a link to your policy within EASYview Weather. The EASYview Weather system will open on the policy and hail event in question for further analysis and exploration. EASYview Weather is an easy-to-use tool that will verify and show you an estimate of the hail size that occurred. You can search for your weather event by policy number, claim number, or even address.
EASYview Weather is available on an iPad®, Android tablet, iPhone, Android phone, laptop, and computer.
Sign up through Account preferences within the Farmer Portal or through the NAU Country Mobile app! Stay aware and informed, contact your Agent to learn more.
Download NAU Country mobile for Android

Download NAU Country mobile for iOS

One account for two services!
You only need one account to login to both our Farmer Portal and NAU Country mobile app. To access the NAU Country mobile app or Farmer Portal, you'll need to register with your policy number, policy type (MPCI, Hail, or Named Peril), tax ID, and an email address. Our system will guide you through the steps, however, should you have questions - we're here to help!