RMA Information on COVID-19 and Dumped Milk on Dairy Revenue Protection and Livestock Gross Margin for Dairy Policies
As we continue to face challenges due to COVID-19, the USDA's Risk Management Agency (RMA) has issued multiple bulletins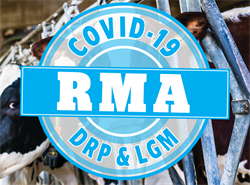 and updates. Please see below for highlights of the most recent bulletins.
MGR-20-006.1: COVID-19 and Impact on Production Reporting Date (PRD) for Crops
MGR-20-009: COVID-19 and Crop Insurance Deadlines – Additional Relief
This bulletin addresses several issues in the action statement, including:
MGR-20-010: Dumped Milk on Dairy Revenue Protection (DRP) and Livestock Gross Margin (LGM) for Dairy Policies
Click here to read the full press release.
We will continue to monitor any changes and keep you informed of any updates as they arise. As a reminder, while many employees are working remotely, NAU Country remains here for you and your policyholders.
Additional Resources