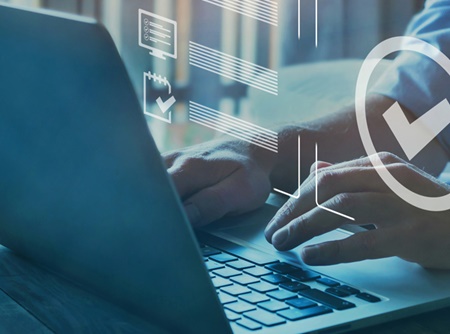 NAU Country offers online bill pay, payment by phone, and several other options for farmer premium payments. Check out the convenient options below!
There are four options available for payment. Three of these options are available in the Account Billing Summary window on our Farmer Portal.
Online Bill Pay consists of two options!

Enroll = Farmers can conveniently pay their monthly statement or set up future payments in our Online Pay system.
One-Time Payment = Farmers can submit a payment for the current billing statement online.

Pay by Phone = Call us! We can take a payment via a phone call if you would prefer speaking to an NAU Country Representative. Please Note: We can only process checks.
Pay by Mail = Farmers can detach the payment coupon at the bottom of their recent statement, include their premium payment, and send to the address provided in the Print by Mail pop-up window.
Paying bills online
If your farmers want to pay online utilizing our NAU Country online payment system, make sure your farmers have accessed and registered on the Farmer Portal ahead of the billing due date. Our Farmer Portal requires individuals to verify their identity when they log in. (See "How to create a Farmer Account" and the "Farmer – Multi-Factor Authentication (MFA) User Guide" listed in our References below). Have your farmers log into the Farmer Portal today to ensure they are registered properly and have access to pay their bills online.
Don't have a Farmer Account with NAU Country? Learn how to assist your farmers here!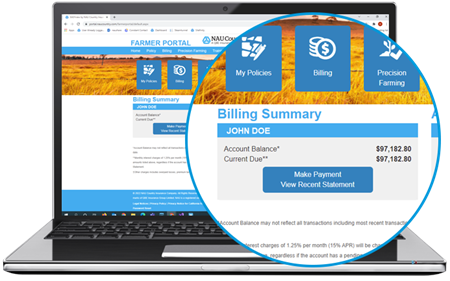 Agents! To assist your Farmers with Online Bill Pay, access our Tips and Tricks.
Farmers! If you already have a Farmer Account, access our Online Bill Pay Tips and Tricks.
Paperless Billing Option!
NAU Country has a convenient and clutter-free solution with Paperless Billing Statements. Paperless billing eliminates extra paper mail, while also helping the environment, and did we mention it cuts back on the clutter? By going paperless, your farmers will receive a billing notification via email, and can access their statement by utilizing our free online Farmer Portal.
If your policyholder is not signed up for Paperless Billing, they will receive the standard mailed billing statement. A brochure with details about Paperless Billing will be included with this statement. Instructions are included on how to sign up and enroll. NOW is the time to talk to your policyholders on how to sign up for a Farmer Portal account and our Paperless Billing option!
How does Paperless Billing work?
Once Billing Statements are generated, your farmer will be sent an email notification letting them know that a billing statement is available for viewing on the Farmer Portal. The Farmer Portal opening page displays their current amount due, along with a link to view their detailed Billing Statement. That's not all! They can view their statement and pay their bill, all in one location! Take advantage of the simplicity and convenience!
Agents! Access our Paperless Billing Tips and Tricks to learn more.
Farmers! Access our Paperless Billing Tips and Tricks to learn more.
Paying bills by mail - Lockbox address
Farmers can detach the payment coupon at the bottom of their recent statement, include their premium payment, and send to the following address:
NAU Country Insurance Company
PO Box 734297
Chicago, IL 60673
Paying bills with check by phone
We can all appreciate the comfort of speaking to a knowledgeable representative. Call us! During business hours our Accounting Department Representatives are willing to assist with your payments via phone!
To make a payment, farmers will need to have their crop insurance billing statement account number, in addition to their bank routing and account number.
Contact NAU Country's Accounting Department at 1.763.486.1711.

One of our representatives will process a check by phone.
This service is only available during business hours.
NAU Country does not accept credit cards.
Need help or more information?
If you have any additional questions, please contact the Accounting Department.
NAU Country Accounting Department:
Toll Free: 1.800.942.6557 ext. 1711
Email: accounting@naucountry.com
Resources
NAU Country offers several Tips and Tricks through the portal. Please review at your convenience for detailed step-by-step instructions to help answer your questions.