Do you have a Global Positioning System (GPS)?
If so, we offer Precision Farming! NAU Country along with your agent can make reporting production and acreage information easier. We offer cloud based reporting right from your tractor. You can have your production or acreage report complete in three easy steps!
Are you interested in simple, hassle free acreage reporting?
NAU Country is part of the Acreage Crop Reporting Streamlining Initiative (ACRSI). Simply report your acres with your NAU Country agent, including your non-MPCI acres. We will automatically transfer them to the Risk Management Agency (RMA) clearing house and then they are sent on to your local FSA office. This will make your time spent at the FSA office a quick and easy experience, as you will simply need to request to have your reported acres pulled in for review.
Contact your NAU Country agent today to find out more!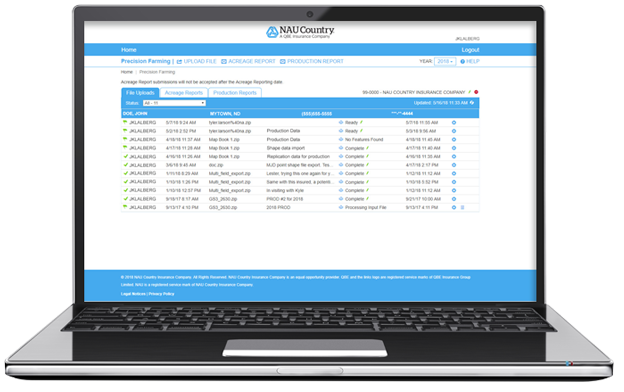 One account for two services!
You only need one account to login to both our Farmer Portal and NAU Country mobile app. To access the NAU Country mobile app or Farmer Portal, you'll need to register with your policy number, policy type (MPCI, Hail, or Named Peril), tax ID, and an email address. Our system will guide you through the steps, however, should you have questions - we're here to help!