Would they tell you...
"Potential hail damage."
"Wind gusts were too strong."
"Precipitation is low."
"Spray today!"
"Your in field dry-down target moisture percentage has been met."
This is just the beginning of what NAU Country's Field Insights™ and the NAU Country mobile app can do for you!
Visit with your NAU Country crop insurance agent or speak with an NAU Country Representative, today!

Click here to contact us or call us at 1.800.465.1032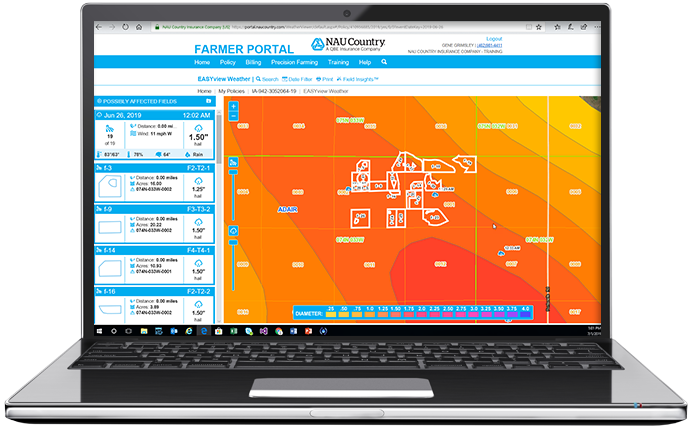 Be aware of hail damage to your fields with Hail Notifications and EASYview Weather!
Worried if hail damaged your fields from yesterday's storm? Check on your fields while drinking your morning coffee!
Our Hail Notifications send out an email if the probability of hail is detected on your policy. Our EASYview Weather system will verify and show you an estimate of the hail size that occurred.
EASYview Weather is available on an iPad®, Android tablet, iPhone, Android phone, laptop, and computer.
Stay aware and informed, check it out today!
What is Field Insights?®
Field Insights is a crop management platform designed to provide you access to the most relevant crop environment conditions for better risk management. It helps you quickly understand crop health at a field level, assists in reducing loss risk, and allows you to be more productive by utilizing field level data including current, future, and historical weather, growth models, and spray and harvest advising.
Features:
Radar:


See what has happened in the past 24 hours, as well as what the estimated forecast looks like for the next 24 hours.

Soil Data:


Review soil information from eighteen individual map overlays to soil composition graph data. Review the types of soil within a field to help scout out new farmland, or gain insight on planting in the future. Map layer options include Soil Map Units, soil moisture and temperatures, available water storage, drainage class, hydric class, erodibility factors, farmland class, hydrologic group, crop production, frost free period, albedo, erosion class, loss tolerance factor, flooding frequency, actual evapotranspiration, palmer drought index, and wetland displays. All available to help you manage risk in the field.

Growth Models and Growing Degree Days:


Field Insights can assist with estimated harvest and spraying dates based on weather data, field information, and planting dates.

Harvest Advisor:


Harvest Advisor looks at the optimum harvest moisture for supported crops along with the user's target moisture. It then projects the ideal time to harvest.

SprayAdvisor:


Spray Advisor provides information to help minimize spray risks and liability, while ensuring product efficacy and crop safety. You set the ideal spray conditions for your field, and the advisor will identify the most ideal spray application window based on environmental conditions.

Acreage Reporting:


Pre-populate your acreage reports with data captured through Field Insights. Additionally, after the planting season, push your acreage report data back into Field Insights.

Frost Alerts:


Provides location specific environmental intelligence to help you plan for preventative actions when frost is in the forecast. Frost Alerting capabilities are part of our focus on sustainable farming.
Contact NAU Country today at 1.800.465.1032!
NAU Country is dedicated to the American farmer. We take pride in providing outstanding customer service by employing a highly skilled network of over 450 claim professionals located across the country. Our adjusters are located in your local communities and have a great deal of knowledge specific to the crops and procedures in your area.
It is key to remain innovative and forward-thinking in agriculture! We believe the same concept applies to crop insurance. We continue to research and develop new technologies to serve you. For instance, our mobile app, NAU Country, allows you manage your policy on the go. You can access your coverage and insurance specific information, check out premium owed, assess weather metrics at a field level, submit and track your loss, and so much more.
You can rely on NAU Country to provide the financial strength and confidence needed in today's environment. We're backed by a strong parent company, QBE Insurance Group Limited, which is one of the top 20 insurers and reinsurers worldwide.
When service, technology, and security are important, there is no better choice than partnering with NAU Country. Contact us today at 1.800.465.1032 or email us at fieldtalk@naucountry.com. We have regional representatives ready to visit with you.