Coverage you need.
Service you deserve.
This year has been hard on our farmers. We have seen Mother Nature flex her muscles with excessive rainfall across the U.S., unpredictable weather throughout the summer, and early snowfall in the northern plains. These devastating weather conditions reinforce the need for crop insurance and ensuring your livelihood more than ever before. NAU Country is committed to supporting you by providing fast, friendly, and complete claim service.
Visit with your crop insurance agent about NAU Country. Want to speak to a NAU Country Representative?

Quicker Claim Payments?
Our NAU Country Farmer Portal provides you with access to everything you need to self-manage your policies. Direct Deposit is a service offered for a faster turn-around on your claim payments.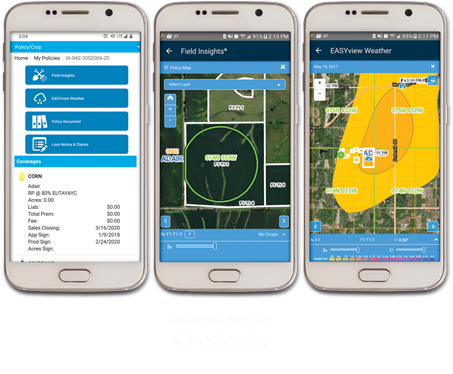 Did we mention that we are mobile?
As a farmer, you can manage your policy on the go! Download the NAU Country mobile app today and you will enjoy the following features:
View coverages and insurance specifics
Email or call your agent from within the application
Receive an electronic copy of previous billing statements anytime
Sign up to receive Hail Notifications when bad weather is near your field
Forecast possible loss estimates with the Price Tracking and Indemnity feature
Submit a notice of loss as soon as you determine there is a probable loss
Track the status of your submitted claims
View mapped fields quickly and easily
Understand your crop health conditions at a field level with Field Insights™
Stay informed on the latest hail event with EASYview Weather
View premiums due and indemnities paid
Dedicated claim service
We know losses are difficult. That is why we have employed a network of over 450 highly skilled claim professionals ready to handle your losses with the competence and experience you expect. Our adjusters are located in your communities and have a great deal of knowledge specific to the crops and procedures in your area.
"Our staff is always ready to step in and help wherever they may be needed. Whether it be in their local area, or in an area outside of where they normally work due to some type of a disaster."
Vice President of Regional Claims Brad Fink
Contact NAU Country today at 1.800.465.1032!
NAU Country is dedicated to the American farmer. We are committed to providing the most informed, accurate, and timely risk management possible. We deliver the best personalized service, dedication to claims, and innovative technology in the industry, and have a strong global parent company, QBE, supporting our efforts. We're proud to work in this industry and help the American farmer feed the world.
When service, technology, and security are important, there is no better choice than partnering with NAU Country. Contact us today at 1.800.465.1032 or email us at fieldtalk@naucountry.com. We have regional representatives ready to visit with you.