Field Insights™ is there for you
With a new planting season coming up, one of the toughest factors to account for is the weather and the impacts it takes on your policyholder's fields. Unfortunately, we can't control what Mother Nature throws our way, but with Field Insights, we can assist your policyholders on making educated decisions for each individual field, giving them the most efficient and successful farming operation possible. Let's take a look at some specific Map Layers and components that will directly aid your policyholders this spring!
Map Layers
The Map Layers within Field Insights provides crucial weather information at a field level allowing your policyholder to see what is taking place on their field without having to leave the house! Each layer provides a different set of information, but all can be similarly read with our user-friendly legend. Let's look at some of those layers now: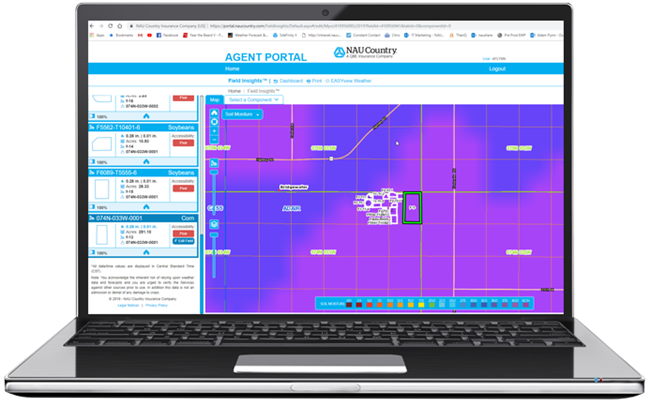 Radar: The first three layers all pertain to radar data and are broken down by the Last 2 Hours, Last 24 Hours, and the Next 24 Hours. Each layer also comes with a loop button as well.
Precipitation: We have four layers pertaining to precipitation. Three display the estimated accumulation that has already fallen in the Last Hour, Last 24 Hours, and an estimated accumulation to fall in the Next 24 Hours. The fourth layer shows the probability of precipitation over the Next 24 Hours.
Soil data: The final two layers provide soil data regarding the Soil Moisture and Soil Temperature.
With each of our Map Layers, once it is selected, the map will update showing different color assignments for the applicable data. Simply match the color to the provided legend to further define the data being provided.
Components
Our components also provide valuable data for your policyholder's fields, but do not use the map to relay that information. In order to utilize the components, you or your policyholder will first need to select a field by either clicking directly on the field shown in the map, or by clicking the applicable Field Card. Once a field is selected, simply click the "Component" tab and choose the desired component from the drop-down menu. Here are some key components to look at for this Spring's planting season:
Current Conditions: The Current Conditions component is the first in the list and provides the following information:

Current weather
Precipitation

Last Hour
Last 24 Hours
90 Days (Historical Data)
Year to Date (YTD)

Soil data

Accessibility – You or your policyholder may update the Accessibility status by clicking on the status button. Doing this will give Field Insights user inputted data which allows for more accurate data in the future.
Soil Temperature
2-meter Water Availability

Planting Conditions: The Planting Conditions provides more of a visual set of weather data over either a week's span in daily increments or in hourly increments over the next 96 hours. You or your policyholder can switch back and forth from hourly to weekly by simply clicking the "Hours", or "Days" buttons. The following data will be provided for both the hourly and daily settings:

Conditions – General weather conditions
Wind Speed – Average wind speeds
Precip Chance – Chance of precipitation shown as a percentage
Precip Amount – Estimated amount of precipitation to fall in inches
Soil Temp – Estimated soil temperature in Fahrenheit
Field Accessibility – Accessibility for the field color-coded as Poor, Marginal, or Good
You already provide the excellent customer service your policyholders deserve, now give them more, with Field Insights!